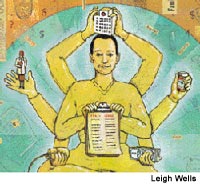 Over the next 10 years, employer-sponsored health plans will evolve en masse into defined-contribution formats, finally and irrevocably creating a consumer-driven health-care system in the United States. Much as the deined-contribution model has put individuals at center stage in determining how to finance their own retirements, employees will soon be placed in the driver's seat for selecting their own health plans in an open market.
Economic, political, and social forces are starting to converge, and a public dialogue is developing. Health-care premiums, briefly under control in the early- and mid-1990s, are once again outpacing the consumer price index. (See Exhibit 1.) Seeing this, employers who participated in a Booz-Allen & Hamilton survey of leading companies express a nearly universal readiness to embrace new health-care benefits approaches that would limit their exposure to rising costs, and return choice and accountability to employee-consumers. Republicans and Democrats alike have presented election-year proposals addressing issues of access and cost via expanded enrollment in public risk pools (e.g., the Federal Employees Health Benefits Program, or FEHB, and Medicare), continued tax deductibility of benefits, and even tax credits. All of these point to a defined-contribution approach. The recent success of similar changes in retirement benefits also augurs well for a fair hearing from consumers.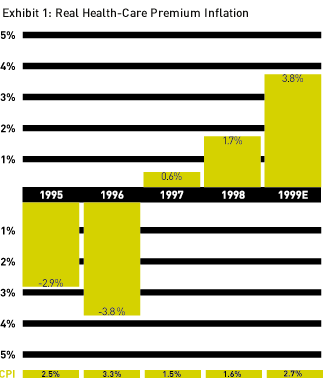 Health Care's Power Retailers
The underlying idea is simple, but the implications are profound. The supply side of the health-care industry will see the emergence of new business models, notably power retailers who use the Internet to create vast, Toys "R" Us-style health-care superstores. In this environment, all existing industry participants will need to become more consumer-focused. In addition to battling the newcomers, today's health-plan providers will have the chance to integrate functions that can lower the costs and risks of developing new sales channels and customer-friendly services. Changes in the marketplace will also open opportunities for outsourcers.
Accelerating double-digit growth in health-benefits costs is once again becoming a reality for some employers. Under these circumstances, our survey of leading companies suggests that employers will welcome the opportunity to limit the risk of future health-benefits cost increases, eliminate much of today's embedded infrastructure costs, and move out of the thankless role of de facto intermediary between patients and health-care providers. Employees will not lead the defined-contribution revolution, but will find much to like once the concept takes hold.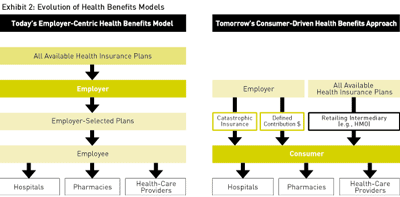 On a practical level, it would work like this: An employee, armed with an annual, defined contribution from his or her employer, would access an online retailer of health benefits — a waiting-to-be-born entity we call "HMOsRUs.com" — and make a plan selection based on the features, risks, and pricing that best meet the employee's needs. (See Exhibit 2, above.) If married, the employee might well combine benefit dollars with those of the spouse and select a single plan for their family. This could free up money for other benefits, such as a contribution to a medical savings account. The online stores would take care of enrollment, card issuance, provider selection, and other front-end services.
Still, the transition to defined-contribution health plans will be more complicated than the conversion of pension programs was over the past decade. The information requirements to provide an open and rational marketplace for health-care benefits (e.g., provider panels, coverage, family structure complexities, high-quality data, etc.) are staggering. In addition, new concepts of risk and non-employment-based group-identity structures will challenge traditional underwriting approaches.
The magnitude of the change brought about by a shift to defined-contribution health benefits will ultimately create new winners and losers in the industry. We estimate that about $18 billion of current spending is up for grabs: the $5 billion health plans spend in sales and marketing; the $3 billion paid to benefits consultants for design, selection, and other services; and the $10 billion employers spend on internal administrative costs — a hidden, often-overlooked burden that adds roughly 10 percent to the $100 billion paid annually in employee premiums and claims.