"If you look at the uses of all our technology, I put this at the top of the list in business value,'' said Ray Lane, president of the Oracle Corporation, the leading producer of database software. "Usually our technology is used to improve efficiency, but the data warehouse is, without question, a top line builder.''
Consider one success story, that of Longs Drug Stores, a retail chain based in Walnut Creek, Calif.
Prior to installing a data warehouse, category management was extremely difficult for Longs. With a decentralized business model, in which individual store managers served as buyers, the chain as a whole lacked data on specific product sales, making it impossible to measure the success of a promotion in a timely way. Now, all Longs stores feed information nightly to a corporate data warehouse that runs on programming supplied by Red Brick Systems Inc., a pioneering software maker in the field. That means promotions can be measured, and altered, on a daily basis.
"Before this, it would not have been overstated to say we didn't know what was sold, as a corporate entity, although our store managers knew,'' said Brian Kilcourse, Longs' vice president and chief information officer. "We weren't getting any economies of scale.'' But since the warehouse opened, "our stores have the ability to see the impact of their merchandising decisions within a day,'' he said. Longs is now working on an expanded warehouse that will combine its internal data with syndicated information from suppliers like A.C. Nielsen for a broader perspective.
Still, despite all the technological gains, running a data warehouse is neither a simple nor a predictable proposition. And as much as costs have come down, a lot more than pocket change is needed to make it work.
"It's easy enough to create these things and put all kinds of stuff in, but it's harder to get it out,'' said Thomas H. Davenport, a professor at the University of Texas at Austin who is the director of the school's Information Systems Management Program. "The term itself, data warehouse, illustrates what goes on; it's not a user or customer-friendly environment.''
Data warehouses represent the latest great paradigm of database management. The earliest data management systems were hierarchical, run on massive mainframes, and were used primarily for archival purposes. The first big change came in the early 1980's, with the adoption of relational database systems, which have primarily operational applications. These systems, typically run on minicomputers, are used for online transaction processing, or O.L.T.P., to operate networks of automated teller machines, for example. Now come data warehouses, commonly run on client/server networks of personal computers and more powerful server machines. These latest systems are used for online analytical processing, or O.L.A.P., an essentially strategic application.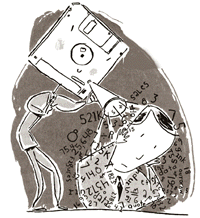 Put another way, traditional database systems are good at recording and reporting what happened. A data warehouse shows why. When business managers gain this understanding, often for the first time, the returns can be exponential.
Indeed, a recent study of 45 major companies by the International Data Corporation found an average three-year return on investment in data warehouse systems of 401 percent.
Impressive though that number is, perhaps more instructive is the very wide range of returns reported by the companies, from a gain of 16,000 percent to minus 1,857 percent.
Although International Data said the negative results could be explained by unusually expensive systems, low usage or large projects requiring longer than three years for payback, the stark difference in results shows that managers must proceed with care. The simple fact is that not every warehouse bears fruit.
That is because setting one up involves a host of ticklish technological and cultural issues. The technological questions alone can make a manager's head spin: Should the warehouse be built on a traditional relational database, which is more familiar to information systems staff, or on a specialized foundation, which may offer higher performance for analytical tasks? Should you make or buy such software helpers as data extraction tools, query tools and user interfaces? Should the system be broadly deployed or confined to specific business processes?