For more than 100 years, a company-centric, efficiency-driven view of value creation has shaped our industrial infrastructure and the entire business system. Although this perspective often conflicts with what consumers value — the quality of their experiences with goods and services — companies see value creation as a process of cost-effectively producing goods and services. Now information and communications technology, the Internet in particular, is forcing companies to think differently about value creation and to be more responsive to consumer experiences. In fact, the balance of power in value creation is tipping in favor of consumers.
The disconnect between what companies and consumers value traces back to the early-20th-century industrial principles. Frederick Winslow Taylor's scientific management focused on lowering unit costs of production. The value chain, a concept introduced by Michael Porter in the 1980s, gave managers an integrated framework to identify and manage costs of designing, producing, marketing, delivering, and supporting goods or services. And Michael Hammer and James Champy's business process reengineering was widely interpreted as implicitly linking cost reduction and internal efficiencies to value creation.
During the 1990s, notions of the extended enterprise and the boundaryless organization encouraged managers to broaden their search for efficiencies and discover ways of creating value from their supplier network and beyond. Starting in 1995, the Internet further invigorated the corporate pursuit of efficiency, this time expanding it to include all the activities directly involving or affecting the company–customer relationship. Still, throughout this evolution, the assumption that internal cost efficiency is the source of value creation has remained unchallenged.
Consumers appreciate and expect efficiency when it improves their experience with a product or service. But most of the time, managers are so preoccupied with operating efficiently that they don't even think about value in terms of the consumer's experience. (See Exhibit 1.) Ask yourself: Do you as a consumer of a digital camera think about the complex sourcing patterns and logistics that the manufacturer has to deal with, or are you thinking about the fun you will have when you bring the camera to the beach to record your children's first ocean swim?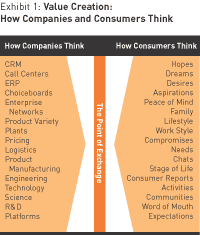 Because companies have historically controlled all business activities involved in the creation of the things they sell, it is their view of value that is dominant. Indeed, the consumer typically has little or no influence on value created until the point of exchange when ownership of the product is typically transferred to the consumer from the firm. This is true whether the consumer is a company or an individual.
Now consumers are challenging this corporate logic of value creation. Spurred by the consumer-centric culture of the Internet — with its emphasis on interactivity, speed, individuality, and openness — the consumer's influence on value creation has never been greater, and it is spreading to all points in the value chain. (See "The Five Powers of the Connected Consumer")
The Five Powers of the Connected Consumer
Before the Internet liberated information, companies could do everything — choose materials used in products, design production processes, craft marketing messages, control sales channels — with no interference. Now, consumers exercise their influence in every part of the business system. Nevertheless, companies should welcome, not resist, the consumer powers detailed below.
1. Information Access. With access to unprecedented amounts of information, consumers have knowledge to make much more informed decisions. This is causing companies across industries to cede control over value creation and develop new ways of doing business. Consider health care. More than 70 million Americans have reportedly used the Internet to learn about diseases and treatment options and investigate how to get involved in clinical drug trials. Consumers now question their physicians more aggressively and participate more fully in choosing treatments. This is dramatically altering traditional pharmaceutical sales practices. In the U.S., it is driving consumer-centric "defined-contribution" health-care reform wherein companies give employees information and ask them to assume more responsibility for selecting and managing their own health-care benefits.
2. Global View. The Internet is the first single source of information that gives consumers the ability, 24 hours a day, to see what is happening around the world. That is changing the rules for how companies compete. For example, multinationals are more exposed to consumer scrutiny of product price and performance across geographies, which means those businesses have less latitude to vary the price or quality of products sold in multiple regions. But it also means companies have more information to sharpen global strategies. New competitors and potential partners for large companies are also emerging in the global marketplace. Even poor artisans in Rajasthan, India, can sell high-quality table linen on the Web for $10 and deliver it to buyers in the U.S. in about a week, and for one-tenth the cost of comparable linen in the United States.
3. Networking. Consumers naturally coalesce around common skills, interests, and experiences. The Internet amplifies this by encouraging an unparalleled ease and openness of communication among perfect strangers. Indeed, "communities of interest," where individuals confabulate and commiserate without geographic constraints and with few social barriers, exist all over the Web. People participating in a chat area may know nothing more about those they're chatting with than the interest they share. The power of consumer networks is that they're independent and based on real consumer experiences, not what the company tells them they will experience.
Such networking among consumers turns traditional company-controlled marketing and advertising upside down. For example, rather than attempt to shut down unofficial Hobbit fan sites, New Line Cinema co-opted them, to help spread word of mouth and create buzz about its movie The Lord of the Rings. Gordon Paddison, senior vice president of worldwide interactive marketing, reached out to the more than 400 fan sites before the movie was released to communicate with the early influencers and give them insider tips.
Consumer education and feedback sites are struggling to prove themselves as viable businesses. But this does not diminish their utility as places where consumers can compare and share information, and places where companies can learn what consumers are thinking.
4. Experimentation. Consumers use the Internet to experiment with and develop products, especially digital ones. The German research company Fraunhofer Institute for Experimental Software Engineering released MP3 as a freely available compression standard that accelerated the transmission of digital audio.
The collective competence of software users has enabled the codevelopment of popular products, such as the Apache Web server software and the Linux operating system.
The ability of consumers to experiment with each other goes beyond software and digital products. Cooks can share recipes. Gardening enthusiasts can share tips on growing organic vegetables. Homeowners can share stories about their home improvement projects. The list goes on. Companies that choose the path of co-creation can tap into consumers' creativity for the development of products and services.
5. Activism. As people learn, they become more discriminating in their choices about what they buy, and as they network, they become emboldened to speak out. Now consumers provide unsolicited feedback to companies and to each other. There are hundreds of "sounding-off sites" on the Web that target specific companies and brands. AOL Watch, for example, publishes complaints from former and current AOL customers. The Web has also become an influential tool for social groups focused on such issues as child labor and environmental protection to get corporate attention and promote reform. Although activism might seem menacing to companies, it also opens the door to competitive opportunity.
— C.K.P and V.R.