Regional differences become apparent when the performance of departing CEOs is analyzed. In both Europe and North America, companies whose CEOs had regular transitions performed significantly better than companies from which the CEO's departure was performance-related. In Asia/Pacific, however, there was no difference between the performance of companies with regularly transitioning CEOs and those whose CEOs left for performance reasons (see Exhibit 6).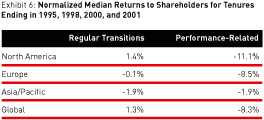 These findings don't imply that "performance-related" departures of CEOs in Asia/Pacific aren't related to performance. They reflect the traditional emphasis, primarily in Japan, of net income growth over shareholder returns. Indeed, when we analyzed corporate net income growth across the three regions and viewed it through the lens of CEO turnover, we could see the unmistakable importance net income growth plays in Japanese companies relative to firms elsewhere (see Exhibit 7).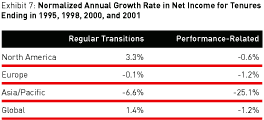 There is also a correlation between corporate performance and the chief's role in the firm. An executive holding the titles of both CEO and chairman of the board is more likely to deliver greater returns to shareholders and higher net income growth. What's more, a multiple-titled executive is likelier to have a longer tenure and a regular transition (see Exhibit 8). Our hypothesis is that the correlation seen in the aggregated data stems from those occasions when boards of directors give an incoming executive the title of chief executive, but reserve the board chairmanship until the executive demonstrates success. In these situations, the executives who are successful will gain the chairman title, whereas those who are less successful will end their careers as CEO but not chairman.

Performance pressures contributed not only to the rate of CEO turnover, but to changes in CEO longevity as well. Across our four departing CEO classes, the average tenure of exiting CEOs declined continually, from 9.5 years in 1995 to 7.3 years in 2001 (see Exhibit 9).

The principal driver of the overall decline in tenure has been the 35 percent reduction (from 7 years to 4.6 years) in the careers of CEOs who ultimately leave for performance-related reasons. By 2001, a CEO who departed because of performance had a tenure only about half as long as that of a CEO who made a regular transition (see Exhibit 10).

Tenure of CEOs is significantly different in the three regions. Tenure is shortest in Europe — only 6.5 years — both because the proportion of performance-related actions is highest in Europe and because poorly performing European CEOs are removed so quickly. North American CEOs enjoy the longest tenure, especially if they make a regular transition. Job performance has the most impact on CEO tenure in North America, where the average tenure ending in a regular transition is more than twice the average tenure ending in a performance-related transition. Job performance has the smallest impact on tenure in Asia/Pacific — the region with the shortest tenure in regular transitions and the longest tenure in performance-related transitions (see Exhibit 11).

Why is the tenure of Asia/Pacific CEOs so short, especially among those who make regular transitions? Our hypothesis is that it's because Asia/Pacific CEOs, particularly those in Japan, are a decade older than their European and North American counterparts when they assume CEO responsibilities (see Exhibit 12). In fact, only in Asia does the mythical image of the chief executive — a gray-haired, gray-suited, male eminence — retain validity. Although they are still overwhelmingly male, CEOs in the West rise to office, on average, below the age of 50. In demographic terms, today's Western CEO is a child of the '60s. And, despite slight upticks in Europe and North America in 2001, the ages of CEOs at the time of ascension is declining. Although this means they have less experience than their counterparts at Asian companies, successful Western CEOs now have the advantage of longer time in office.