Industry Differences
Most of the patterns observed over time and across regions are mirrored within each industry sector. However, some differences among industries stand out. In rate of CEO succession, telecommunications services, energy, and information technology were all significantly higher than average. The CEO Safety Index in Exhibit 13 — the proportion of CEO turnover in an industry divided by the proportion of companies in the industry — measures the rate of CEO succession. In telecommunications and energy, merger activity was responsible for the high turnover. Industry volatility leading to performance-related departures drove turnover in information technology. Financial services and utilities had significantly lower rates of CEO turnover, especially during 1995 and 1998, when the favorable financial environment in the United States reduced performance-related succession.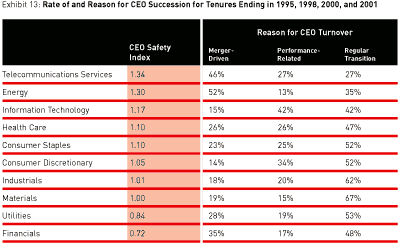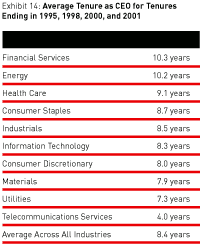 Excluding CEOs who depart following a merger, CEO tenure is greatest in financial services and energy. The four-year tenure of CEOs in telecommunications services is less than half the average tenure of CEOs in all industries (see Exhibit 14).
We believe the exceptionally high turnover rates among CEOs in the information technology and telecommunications industries, triggered by the collapse of the dot-com bubble in the United States, the 3G debacle in Europe, and the global capacity glut in communications, drove the exceptionally high overall turnover of CEOs in 2000. This, in turn, helps explain the otherwise anomalous increase in CEO tenure seen in 2001. If the exceptional turnover in those industries is removed from 2000, then CEO turnover in 2000 drops to almost the level of 2001 — which, of course, is still significantly higher than the earlier years studied.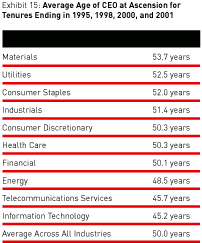 Average ages also differ significantly by industry (see Exhibit 15). CEOs in the information technology and telecommunications services industries are only about 45 years old at ascension, five years younger than the average. In materials, CEOs average almost 54 years old at ascension. Overall, though, regional differences are much larger than industry differences.
The New Rules for the CEO
What are the implications of our findings for CEOs — at least for CEOs in Europe and North America, where the game has clearly changed? Put another way, how can CEOs ensure that "Hail to the Chief" doesn't become hail on the chief?
First and most obviously, CEOs must deliver acceptable and consistent total returns to shareholders. In the U.S. and Europe, the growing democratization of shareholding has clearly placed total shareholder returns higher on the management and board agenda than it was in years past, when net income and return on assets were the measures by which the firm's managers were judged. In those bygone days, management focused on effective stewardship; the relevant benchmarks were competitors in the same industry. Today, however, shareholders — from individual investors to giant pension funds — are increasingly judging each company against all others; as financial markets become more global, transparent, and accessible, those judgments are being rendered across continents as well. This requires a fundamental change in management behavior and perspective. From the shareholder's perspective, the effectiveness of a CEO is measured by how much a company's performance improves (along with its prospects). Management now has little choice but to focus on repeated improvement.
The difference between the net income/return on assets and shareholder return perspectives is most apparent following the departure of a famously successful CEO, such as Percy Barnevik of ABB or Jack Welch of GE. Once raised by a successful CEO, shareholder expectations remain sky-high. Even if the successor CEO delivers very good net income growth and an attractive return on assets, the company's failure to meet inflated expectations will depress share price. As our analysis shows, continued failure to exceed the market's average returns is the surest path to a CEO's early departure. Thus, the new truism in business: The job of top management is to improve a company's performance (and raise expectations of future performance). CEOs in Europe and North America who don't embrace that definition of their job won't have a job for long.