For these companies, and those that will be involved in numerous other acquisitions to reduce competition over the next few years, tough decisions made during consolidation are critical to success. For starters, companies must think about how to integrate technology, how to retain customer loyalty, which products to continue to offer and which to shelve, and what the overall branding and business model should be for the newly merged organization. Simply put, the winners will be distinguished from the losers not merely by consolidation but by the way in which they consolidate. For that reason, the wireless industry, whose commoditization problems are among the most clear-cut in corporate America, presents one of the best examples for analysis of how to thrive when competitive consolidation is the only real option.
Four Goals, Two Hurdles
Cellular phone carriers hope to gain four key strategic outcomes necessary for the long-term success of the wireless industry from the next phase of consolidation: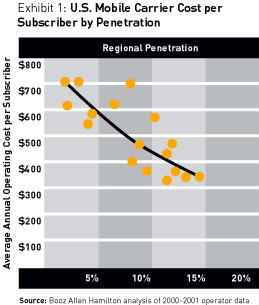 • Economies of Scale. Mobile network operators with the highest share of customers within a region benefit from having the lowest costs per subscriber, according to a Booz Allen Hamilton analysis. For instance, in 2001, the average annual operating cost per subscriber for a carrier with 15 percent regional market share was about $350, and double that for a wireless company with about 2.5 percent penetration. (See Exhibit 1.) These significant economies of scale are driven primarily by the large fixed component of local radio network deployment and operating costs.
• Reduced Competition. A decrease in the number of carriers in each region will lead to reduced price competition, lower customer acquisition costs, and less churn, all of which are key drivers of profitability. If current industry conditions were to persist, average revenue per customer would continue to drop, and drop even more precipitously, as carriers signed up, at lower prices, marginal customers who would use their cell phones infrequently. Consequently, controlling price erosion, acquisition costs, and competitive churn will become increasingly important for wireless companies.
• Stronger Bargaining Position. Larger carriers are able to exert greater influence on other companies in the value chain. For instance, dominant operators can gain greater "shelf space" for their devices in crowded retail distribution channels, or establish favorable partnerships with technology vendors to test, launch, and reap the rewards of emerging mobile data applications.
• Solutions to Spectrum Scarcity. Leading national carriers are facing spectrum constraints in a significant number of markets, which limits their ability to migrate to new, more advanced network platforms. For carriers lacking spectrum, consolidation could be one of the few solutions. This shortage is being driven in large measure by rapid growth (25 to 40 percent per year) in usage per subscriber, which is increasing as the rates that customers pay for wireless access fall and as companies offer teasers, like "free" unlimited calls on weekends, to entice potential customers who haven't yet been motivated to purchase a cell phone. Although the federal government is currently scrambling to find spectrum, it is clearly having a difficult time. The anticipated auction of the 700 megahertz (MHz) band, which has been postponed repeatedly, is now scheduled to be completed in early 2003. In addition, litigation has delayed the redistribution of spectrum won in a 1996 auction by NextWave Telecom Inc., which failed to come up with money to pay for the licenses.
Though regional consolidation is obviously necessary for cellular companies to be successful, some companies with overlapping footprints have in the past been dissuaded from merging because of two fundamental obstacles. For starters, to encourage competition, the Federal Communications Commission prohibited any carrier from owning more than 55 MHz of spectrum in any market. Since most of the large national carriers own at least 30 MHz in many of the top markets, this regulation, in effect, has prevented sizable carriers in most regions from merging. This constraint is being eliminated, however, as the FCC plans to phase out spectrum caps completely in January 2003.