• Making sure that billing systems are rescaled to accommodate added volumes while supporting new functionality and uniform rate plans and promotions.
• Accommodating new products on the surviving network, which might not be able to support the same full set of services and features provided by the eliminated network.
• Maximizing the value generated from breaking up the acquired company and redeploying and disposing of the dismantled network assets.
Scenario 2: Two Distinct Networks
An alternative to the network migration scenario is to use the networks of the acquiring and acquired carriers to create two separate operations serving two distinct markets:
• ValueNet (formerly BuyNet) would be a low-cost network for price-sensitive, low-value customers. It would be marketed as a voice and short-message service, with inexpensive pricing programs and minimal customer service.
• FeatureNet (formerly SellNet) would be a high-quality network for high-value customers, typically the individuals and businesses that spend the most per month on cellular phone service. This unit of the newly merged company would provide best-in-class voice and data services supported by extremely responsive customer service.
Both of the new networks, FeatureNet and ValueNet, would become focused operations whose cost basis more closely matches the revenue potential of its subscribers. As shown in Exhibit 3, FeatureNet's monthly cost per subscriber would likely rise sharply from $64 to $110, largely because it would have a smaller, more exclusive customer base of heavy users than it did when it was SellNet. Plus, the high-end services FeatureNet would provide its customers are expensive to develop and maintain. But FeatureNet's monthly average revenue per user (ARPU) should also rise dramatically, to $141 from $49, because its customers, lured by its state-of-the-art voice and data services, would be spending more time and money on the wireless network. Meanwhile, ValueNet's monthly ARPU would drop to $35 from $59, and its monthly cost per subscriber would fall as well, from $47 to $39 — mainly because the new no-frills network would be inexpensive to run and would have low subscription rates.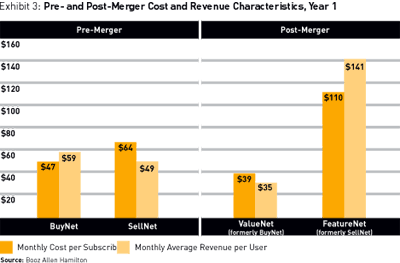 According to our analysis, the dual network approach would generate positive cash flow in the third year of the new company's existence, nearly two years earlier than if the acquisition had not taken place. Although part of this cash-flow improvement stems from overall reductions in operating expenses, the main portion of it comes from lower capital expenditures, which would be 25 to 30 percent less than if the companies hadn't combined. In particular, ValueNet's capital costs would be cut back significantly because it would focus only on maintenance of the existing network and minimal capacity increases, while forgoing investment in 2.5G/3G upgrades.
Like the network migration approach, the dual business model strategy is not without its obstacles. The following are questions BuyNet's management team must consider:
• How do we assign existing customers to each business model? What kind of framework for customer segmentation should be used to determine which customers go where? What are service level/feature richness trade-offs?
• How do we tailor the marketing, sales, and channel strategy to deliver each of the two different value propositions? How do we develop these separate and customized business streams while leveraging scale and minimizing costs of functions that are common to each?
• How do we determine which network should be selected to support each of the two business models?
• What level of investment in each of the networks will be needed to reach the target cost position while providing the right features and quality of service?
These two distinct consolidation approaches for mobile carriers unlock considerable value for shareholders, well beyond traditional, less carefully plotted consolidation strategies. But more than anything else, these models for competitive consolidation illustrate a vital point that executives at companies in many industries must keep clearly in mind as they pursue growth by acquiring rivals. If cost savings, innovative approaches to profitability, and new avenues for revenue growth are not constantly monitored and maximized during the acquisition, the company could end up in a worse position than it was in before the deal was made. However, if these factors are diligently considered — following a framework and thought process similar to the one we used in planning the two alternative approaches for wireless mergers — not only will the winners stand out among the many companies whose mergers have failed, but the financial rewards will likely be dramatic.