Leadership Cuts "Cost to Serve"
Today Supply Chain Management, which is more complicated and challenging than ever before, requires precise and decisive strategic leadership from the top. Without such careful guidance and oversight from the CEO and the company's full leadership team, our survey suggests companies can't achieve the results they desire — and should get — from SCM.
"Supply Chain Management is most powerful when it is viewed as an embedded cross-functional capability in an organization."
In companies where responsibility for SCM resides below senior management, our survey showed annual savings in the cost to serve customers are just 55 percent of what they are when SCM is a well-integrated component of the overall business strategy. The cost to serve customers comprises all expenses a company incurs when "serving the customer," including all aspects of the supply chain (from procurement to distribution) as well as marketing and manufacturing costs. This broad cost measure also covers salaries and administrative expenses.
At most companies, responsibility for Supply Chain Management tends to be pushed down the leadership hierarchy. And typically each functional component of SCM (i.e., procurement, transportation, distribution, and inventory) is managed discreetly and with little coordination among the elements. For example, procurement and transportation may well be dealt with in separate functional departments, often without the involvement of sales and distribution in day-to-day decisions. Furthermore, SCM isn't usually included in the strategic-planning process, which is an opportunity to fit the pieces of the SCM puzzle together.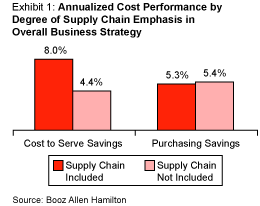 Although senior management involvement in SCM provides the big benefit of reducing the cost to serve customers, it doesn't improve the savings in purchasing, according to our survey. (See Exhibit 1.) This is not altogether surprising because purchasing is a narrower part of a company's cost base; it includes only the procurement costs for and price of raw materials. Because procurement departments are designed to cut purchasing costs (and are measured by their ability to do this), it is reasonable to assume purchasing costs can be effectively controlled regardless of how much SCM and corporate strategy are integrated.
However, responses did show a modest edge in purchasing savings improvement (5.9 percent versus 5.0 percent) for companies at which the CEO is personally engaged in setting the supply chain agenda.
Breaking Constraints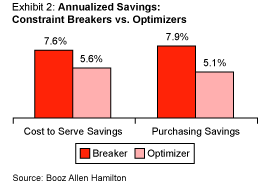 Greater cost savings are achieved, the survey shows, when management is willing to take a broad approach to SCM — tying together numerous functions across the entire organization — to the point where the overall structure of the supply chain is visible and can be reevaluated when necessary (what we call breaking constraints). This finding is in contrast with management teams that are only willing to make improvements to the existing supply chain structure, what we call optimizing within constraints. (See Exhibit 2.)
For example, a narrow "optimizing within constraints" SCM approach to falling demand for Product B might be to reduce purchases of the raw materials used for Product B and let the rest of the chain adjust to the reduction. A broader "breaking constraints" approach might be to reduce procurement and inventory of Product B, keep manufacturing running at 85 percent of capacity by increasing production of Product C — which happens to use a similar manufacturing process — and switch distributors to those with better knowledge of the Product C marketplace.
"Nearly half of survey respondents said their supply chain IT solutions have failed to live up to expectations."
In a related finding, the survey suggests that SCM programs tend to perform best when both the supply and demand sides of the business are addressed. Companies with a balanced approach that incorporates both the demand side (marketing and sales) and the supply side (manufacturing, distribution, and purchasing) outperform companies where the SCM program is dominated by the demand side of the business alone.