Technology Is No Panacea
According to the International Data Corporation, businesses worldwide invest more than $19 billion annually on information technology systems solutions to improve their supply chain performance, yet nearly half of the companies represented in the Booz Allen survey, who are among the biggest IT spenders, were disappointed with the results.
Every year, it seems, supposedly "breakthrough" IT is introduced for the supply chain. A few years ago it was enterprise resource planning (ERP) software, the management tool that gathers information across procurement, inventory, manufacturing, and distribution. Today, the hot technology is radio-frequency ID tags, which allow for automated, real-time tracking of inventory.
The truth — perhaps, a somewhat sad truth for information technology vendors and their customers — is that there is no way to optimize supply chain performance with technology alone. On all measures of IT systems performance, survey respondents indicated that the solutions they implemented did not meet expectations much more often than they exceed them. (See Exhibit 3.) Equally striking, among companies spending $25 million or more over three years on supply chain IT, only 21 percent said their systems exceeded expectations; 38 percent said they did not. These expectation gaps were generally true across geographic regions.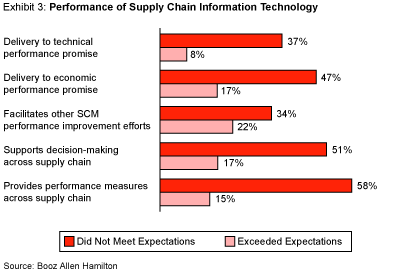 These results, however, only reinforce a truth about IT that is often ignored. Information technology, or any technology for that matter, is ultimately and intimately tied to human variables (e.g., Can people actually use the technology the way it is supposed to be used? Are the management limitations and opportunities to optimize use of IT tools understood? How does IT change the way processes are managed?). For example, the Internet provided great hope for IT supply chain solutions. There was a belief that the mountains of data that could be generated across the supply chain with the Internet's help would automatically enable managers to make better SCM decisions. Not surprisingly, the Internet hasn't been a panacea. The reason is that there is simply too much data overwhelming and confusing the decision-making process. Without better ways to manage and analyze the data, the Internet is a great generator of information but not a great tool to facilitate human insight.
This is not to say there isn't enormous potential to improve SCM using Internet technology. But the potential is only as great as the company's strategy and managerial prowess of the people who use it.
Herculean Rewards
Whether the issue is the quality of the technology, leadership, or execution, or all three, we believe when companies focus on SCM and put genuine effort (time and money) into the process, the promise becomes more tangible. Our research shows companies that make the biggest commitment to better Supply Chain Management outperform those companies where the effort is merely incremental.
"Companies that classified their SCM effort as 'Herculean' reported annual purchasing savings 26 percent higher than those with less commitment."
Respondents who classified their SCM efforts as "significant" or "Herculean" reported annual purchasing savings 26 percent higher than those with lesser levels of commitment ("incremental," "aspirational," or even "nonexistent"). Those companies with higher levels of commitment also reported savings in the cost to serve customers of 6.3 percent versus 5.8 percent for the lesser committed. Although the 9 percent difference in this measure is smaller than for purchasing savings, it is real. This suggests that effort alone does not have as large an impact on the broader measure of cost savings, but improvement in the area requires other factors to be in place, such as the proper supply chain leadership structure and the appropriate use of technology.
Of course, companies' spending close to $19 billion a year on supply chain technology and not achieving the results they want reinforces the fact that money alone can't buy success. What matters just as much is creativity, dedication, and patience.