With its recent closure, Webvan, which burned through $1.2 billion in financing, became the most spectacular bust among pure-play e-tailers. Its problems included an overly ambitious rollout schedule, a problematic acquisition of HomeGrocer, and a disastrous tendency to overlook short-term operating costs. However, even if it had reined in its worst excesses, Webvan would have struggled to ever challenge — or even annoy — incumbent grocery retailers. Along with other Web grocers and e-tailers, Webvan attempted to swim against the tide of retailing history.
Webvan ignored the century-long evolution of "common-goods" retailing, which includes groceries, general merchandise, home improvement products, and gasoline. All are commodities that differ little from one retail outlet to another. With product differentiation removed as a factor, consumers choose their preferred retailer based on three factors: convenience, selection, and pricing. Generally, a quarter of consumers shop strictly on price, with convenience vital for half, and the remaining quarter swayed primarily by selection. Ultimately, the price shoppers are the deciding force in retail competition.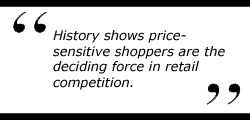 The history of retailing has proved consistently that new business models win by using radically lower prices to attract price-sensitive customers — those most easily induced to switch retailer loyalties. Attackers build volume and rapidly reach scale with the price shoppers, after which these retailers expand and thereby attract the convenience- and selection-sensitive shoppers. This model offers extraordinary returns to the dominant new player. For example, between 1977 and 1987, Wal-Mart enjoyed a compounded annual stock appreciation of 45 percent as it demolished existing department and variety stores. Circuit City and Toys "R" Us played the same role in the consumer electronics and toys segments. (Eventually, competitors encroach on the newcomer's territory, ending the era of abnormal profits.)
E-tailers had hoped to become the next wave of high-profit innovators by making traditional bricks-and-mortar retailers obsolete. Unfortunately, most e-tailers overlooked the crucial historical lesson: Successful new formats have always enjoyed significantly lower costs than the incumbents they replaced.
For example, The Home Depot's payroll is only 9.8 percent of sales, whereas the typical hardware store's payroll totals 20 percent of sales. Such lower costs support lower prices, which, combined with acceptable (not necessarily better) service, attract price-sensitive customers. As The Home Depot expanded, the do-it-yourself (DIY) format's appeal then spread to the larger convenience-driven customer segment. With higher inventory turns, larger DIY stores profitably offered product lines missing from less-efficient local hardware stores. Outflanked on both price and selection, the incumbent hardware format lost customers, stagnated, and declined. Most of the survivors are under a cooperative umbrella brand like Ace Hardware.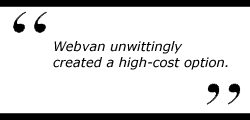 The Revolution Goes Awry
Webvan and other online grocers are a case study of the perils of historical innocence. Having observed that grocery formats were unchanged since the 1950s, when self-service supermarkets knocked out higher-cost neighborhood grocers, e-grocers imagined that the retail segment was ripe for a format revolution. Plus, they knew that consumers ranked grocery shopping as one of the most despised household chores. Infused with confidence, the attackers approached the online channel from different directions. Peapod updated the delivery model — still popular in dense urban markets — by taking orders over the Internet, doing pick-and-pack from a retail store, and charging a premium for the service. With low fixed but high variable costs, Peapod's model minimized risk but enjoyed no economies of scale on the upside. Without a traditional grocer's purchasing volume, Peapod had to pay higher wholesale prices than offline competitors — a killer cost in a segment with microscopic margins. Ultimately, Peapod resembles other full-service retailers, such as dry cleaners — it is marginally profitable, but no potential Wal-Mart.