The Last Mile to ... Somewhere?
Is Urbanfetch's demise a harbinger of doom for other Web-based delivery services? Maybe not, depending on their willingness to change and investors' willingness to wait.
(originally published by Booz & Company)
Last week's announcement that the Web-based e-tailer and delivery service Urbanfetch was discontinuing its business-to-consumer operation came as no surprise to us. As we pointed out on our Website in June and in the August issue of strategy+business (Issue 20), such companies — highflyers Kozmo.com, Webvan, and HomeGrocer among them — face limited online sales potential, high cost of delivery, a speed-variety trade-off and existing, entrenched competition. "We believe the last mile may lead to the gallows rather than to the promised land," we wrote.
Since that article appeared, Webvan acquired HomeGrocer, Kozmo cancelled its plans for an initial public offering, and Urbanfetch closed its core business. Are we gloating over our prescience? Not at all. We believe all these moves are signs of maturity — and hopefully indications that one or more players may develop a workable business model. The moves by these and other players fall into five broad categories:
Focus on cost structures. Kozmo has laid off 300 people since June. Smaller Urbanfetch eliminated 2 percent of its workforce in August even before it abandoned its consumer delivery business. After Webvan signed a deal with HomeGrocer in early September, Webvan delayed expanding into New Jersey and Baltimore/Washington markets to sort out differences between its highly automated operations and those of HomeGrocer.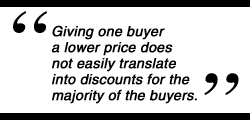 Refinement of the product mix. Keeping a close eye on profit potential, Kozmo recently trimmed its offering from 25,000 items to 15,000. Likewise, even though Urbanfetch chose to pull out of the consumer business, it had taken prudent steps to get rid of obvious money-losers like video rentals. Though an extreme case, Urbanfetch uncovered one regular customer who had placed orders totaling nearly $1,000 over a year. Unfortunately, the $1,000 in revenue — mostly video rentals — required more than 100 deliveries (plus a number of "free" pickups). This customer (supposedly desirable because of his loyalty) actually cost Urbanfetch several thousand dollars. Meanwhile, Urbanfetch had added an immediately profitable wine product-line by astutely offering medium- to high-priced vintages and instituting a two-bottle minimum. Going forward, Kozmo would do well to take up where its former rival left off.

Fine-tuning of service offerings. Though initially hyping same-day delivery, Webvan arguably no longer belongs in this category. It now wants to attract consumers with precision-delivery within a 30-minute window. In fact, on a typical day in Oakland, 30 percent of Webvan's deliveries were ordered two days in advance. Such advance notice enables Webvan to improve planning and lower costs. Further, Webvan plans to experiment with service offerings that segment consumers according to an optimal cost/value trade-off. Most last mile companies have considered the savings they might achieve from moving away from immediate gratification and relaxing current delivery standards, but none is confident about how this will affect demand. Other online grocers hope Webvan will stick with its 30-minute window — convinced that this equals financial suicide. On the other hand, they may be underestimating Webvan's unique scheduling software and hub-and-spoke network design, which could allow them to offer superior service without a cost disadvantage.

Expansion into business-to-business. Looking much more like a traditional courier service (and obviously no longer a "free delivery" model), Urbanfetch's Manhattan-based business service, Urbanfetch Express, has attracted several premier business accounts, including Conde Nast, Sony, and CapGemini Ernst & Young. Urbanfetch isn't the only one courting corporations: Sameday.com has completely abandoned its original business model and now offers proprietary software and a nationwide fulfillment network to other businesses for a fee. Kozmo now delivers prepared meals to the less price-sensitive business consumer. Webvan has introduced "Webvan at Work," a program that lets time-pressed employees order groceries from work and pick them up in their company's parking lot. Additionally, some of Webvan's most valued customers are small Silicon Valley companies that order snacks, soda, and office supplies for employees.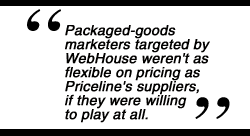 Building on synergistic partnerships. Mergers — like the Webvan and HomeGrocer combination and the near-union of Kozmo and Urbanfetch — represent the most explicit form of partnership. Consolidation eliminates competitors, hopefully increasing delivery density (sales per square mile, a figure that's critical to profitability) and providing some economy of scale in buying and merchandising. A subtler harbinger of future last mile alliances, however, comes from that stalwart of e-tailing, Amazon.com. Its partnership with Toys "R" Us is based on a well-worn core competency concept: Amazon contributes its expertise in Web design and e-tail fulfillment, while Toys "R" Us applies its superior knowledge of toy merchandising. This allows Amazon to continue to sell a huge breadth of product to its 26 million customers while avoiding the inventory risk that produced a $40 million write-off last holiday season. Stronger partnerships between a category killer like Amazon and last mile deliverers seems logical, too, especially since Amazon owns a big stake in Kozmo and about 10 percent of the combined Webvan/HomeGrocer. Amazon currently employs Kozmo to deliver books in select cities in response to BarnesandNoble.com's same-day service. A more substantial partnership might offer Webvan delivery services to Amazon customers — faster and less expensively than normal mail service. The combination would offer a new, potentially superior offering in the speed versus variety trade-off.

The Next Mile
These changes underscore some positive movement among the early entrants in the last mile sweepstakes. But each still needs to watch other changes in the marketplace. In particular, several new firms now offer office-centric models to avoid many last mile challenges in the consumer arena. As one entrepreneur noted, why try to deliver to the home when 68 percent of online consumers are at work?
Then there's the mobile e-commerce (m-commerce) wild card. Should impulse purchases shift to hand-held web devices, the same-day specialists face significant risk that their target customer, now on the move with a cell phone or PDA in hand, will find nearly immediate curbside pickup as convenient as one-hour delivery.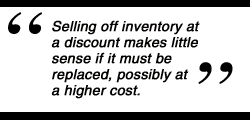 But that's a new threat, and one surfacing relatively slowly in Internet terms, especially in the United States. Although m-commerce is a cultural phenomenon in Japan and Scandinavia, it has not caught on in the U.S. And no killer app has emerged to drive global adoption. Furthermore, key hardware and software vendors suggest a near-term focus on business-to-business applications.
Race Against Time
Which company will win? As consultants, not oddsmakers, we'll pass on the chance to make predictions. The results will depend on the willingness and ability of company management to implement change and investors' patience to let them try.
Our recent visits to last mile e-tailers show many (not all) scrambling to address the fundamental economic challenges we identified this summer — with an aggressiveness we hoped for but would not have predicted. Nonetheless, investors continue to show impatience with business models awash in red ink — so stretching on existing cash becomes paramount. Recognizing the great consumer value proposition of the last mile, we remain hopeful that some company evolves rapidly enough to survive the treacherous terrain.
October 17, 2000
Authors
---
Tim Laseter, lasetert@darden.virginia.edu, serves on the operations faculty at the Darden Graduate School of Business at the University of Virginia. Previously he was a a vice president with Booz Allen Hamilton in McLean, Va. Mr/ Laseter has 15 years of experience in building organizational capabilities in sourcing, supply chain management, and operations strategy in a variety of industries.
---
Martha Turner, turner_martha@bah.com
Martha Turner is a senior associate in Booz Allen Hamilton's New York office. She specializes in operations and supply chain management in a broad range of industries, with particular emphasis on e-business.
---
Anne Chung, chung_anne@bah.com
Anne Chung, a principal in Booz Allen Hamilton's Cleveland office, focuses on supply chain management and Internet-enabled operations.
---
Pat Houston, houston_pat@bah.com
Pat Houston, a Booz Allen Hamilton principal based in New York, focuses on driving organizational performance improvement through strategic and operational transformation.