Of course, the measure of success in making boards accountable is not the removal of underperforming directors. Ideally, boards should put in place performance measures and evaluations that provide the group and individual directors the opportunity to correct course before real damage is done.
Nearly all governance experts urge directors to conduct board evaluations. Directors at best-practice companies like Target and Medtronic have done so for years. But how do firms institute evaluation? A 2001 report by the National Association of Corporate Directors notes that boards often develop evaluation processes in stages — frequently with the help of experienced independent advisors — progressing from full board evaluation, to individual director self-assessment, to peer evaluations.
Although these evaluations still lack rigor at many companies, directors praise the improvements they yield. Karen Horn, a managing director at Marsh & McLennan Companies Inc. and a director at Eli Lilly, says that self-evaluations led the boards she was on to introduce effective new governance procedures. One board now finishes each meeting with an executive session that does not include management. Moreover, agendas are now set less rigorously, to provide time for more open discussion. The number of business heads reporting at each board meeting has declined. Although small, these measures make a difference in the quality of discussions.
When it comes to assessing individual directors, however, the subject of board self-evaluation becomes more controversial. Purdue's Professor Beering says the five boards he sits on have rejected the idea, believing it "pejorative and insulting." Yet the research by Professor Lawler of USC shows that directors rate board effectiveness significantly more positively on boards where individuals are evaluated. Perhaps that explains why studies by Korn/Ferry show that 71 percent of directors think individual evaluations are a good idea (although only 18 percent actually participate in them).
This is a sensitive area, but the increased need for improved board fitness demands progress on the issue of board (and probably individual director) evaluation. A healthy first step is for the chairman, in collaboration with the CEO, to draft a set of evaluation criteria relevant to the organization and its situation and circulate it among the directors for comment and discussion.
This "Chairman's Checkup" should begin with a rigorous exploration of the firm's earnings drivers, and lead toward an analysis of the risks the company faces in those areas. (See Exhibit 2.) Because boards are essential risk management mechanisms, the earnings and risk analysis can help guide the company toward the specific types of knowledge and skills its directors should have, the practices in which the board should engage, and the information directors require to perform their duties. Understanding the board's composition, information, and process requirements will in turn help define the metrics needed to ensure continuously high performance. (See "Enterprise Resilience: Managing Risk in the Networked Economy." )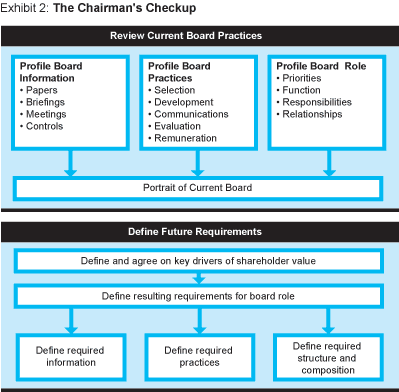 Strategy and Oversight
A shared understanding of ethical behavior is one of the critical elements that bind a society together. But good corporate governance transcends ethics: It is a crucial operating system for companies in complex, competitive, fast-moving industries, and thus an important component of economic stability and growth.
Legislation can stiffen penalties for directors, executives, and firms straying from the path of good governance, and exchanges can tighten listing requirements, but only the chief executive officer, the chairman, and their board of directors can choose to govern well. To do that, they must master the soft art of balancing power, nurturing a collegial culture, promoting continuous improvement, and educating and informing each other. Although these behaviors have always been noble goals, they are now a shareholder requirement in a newly chastened marketplace.