Exhibit IV
The Differing Paths to Value Migration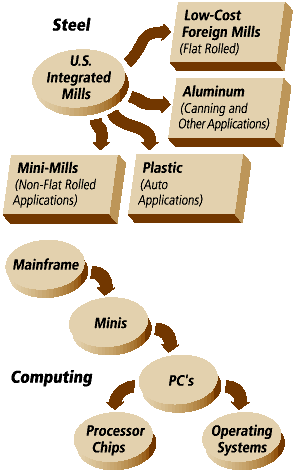 Exhibit V
Market Capitalization Decline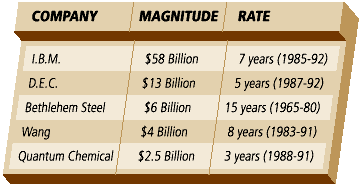 Although value migration mapping is difficult for reasons both analytical (the past is easier to "predict" than the future) and organizational (the power of denial), you can apply the experience and frameworks established in prior cases (e.g., steel, media, retailing, airlines). These help you develop an accurate reading of your situation, gain a clear sense of the rate at which the organization needs to move and assess the level of risk it should assume. (See Exhibit VI.)
Exhibit VI
Value Migration Analysis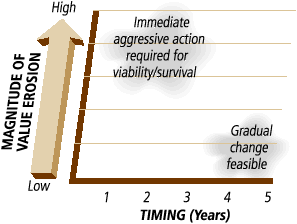 2) Revisit the customer base; map the trajectory of customer needs. In trying to understand and anticipate value migration, your most powerful ally is the customer. But conventional approaches to customer analysis defeat its strategic purpose. They rely on market research methodology executed by junior professionals to create a profile of today's customer needs and preferences.
The approach we recommend involves a shift from traditional questions and modes of inquiry to the more troubling ones. It means not asking questions such as, Am I competitive?, but, Am I competing in the right way? Not, What do I need to know?, but, What am I afraid of finding out? This approach also involves a shift from junior professionals to senior managers as the key participants, and a shift from the standard tabulations of market research to a strategic exploration of the trajectory of the customer's needs and preferences. What you want is the moving picture of how those needs have changed over the last several years and will change into the next half-decade. (See Exhibit VII.) Finally, it involves a shift from a purely analytical process to one that also applies creativity to anticipating how customers will move.
Exhibit VII
Trajectory of Customer Needs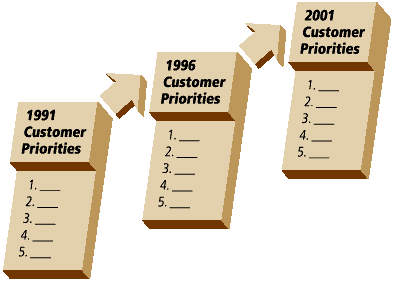 Summoning this type of creativity requires a genuine, ongoing dialogue with your tough, demanding customers. You need a sophisticated understanding of customer economics (how do they make money?) and an appreciation of the competitive and other pressures that customers must respond to. When you make the investment in understanding customers' economics and strategy, you begin to appreciate their future needs and preferences and to shape solutions that respond to them. Just as important, you begin to anticipate when major transitions in the structure of customer needs and preferences will occur, and when a fundamental transition in your company's business design will be required.
Honestly determining the trajectory of customer needs reveals that the customer is saying (in effect), "I don't care about your historical abilities to ____ [fill in any one of a long list of obsolete skills, e.g., provide minicomputer architecture design brilliance]. My business has changed, my economic priorities have changed. What I really care about is ____. What I will pay a premium for is ____."
Implicit in this information is that the customer is discounting traditional skills and valuing new ones. This leads inevitably to the next action, a reassessment of your company's business design.
3) Compare your business design to that of competitors. Begin by characterizing your own business design in terms of technology, organizational configuration, degree of vertical integration and value-recapture mechanism. Compare your approach to that of competitors: traditional, newcomers and "nontraditionals." Does the economic logic that originally led to your business design still hold true?
Then compare your design to what you would do if you were entering the business today. How would the design differ? Why?
A comparative perspective on business designs frequently suggests that the company's cost structure is too high. When value migration occurs, changing the cost structure is critical. But how it is changed makes all the difference.