Although companies are frequently criticized for missing good ideas — in the way that Levi Strauss missed the trend toward fashion jeans — a mirror problem often goes unrecognized: accepting too many "bad" ideas among the good ones. Overly lenient companies waste money on projects that never reach launch or that fail shortly after they reach the marketplace. Although proliferating launches may provide them some successes and gain the firms a reputation for innovation, their program is typically quite expensive and is characterized by high R&D spending as a percentage of sales, and low probability of success for projects in the portfolio.
A major cause of missteps in project selection is the silo-ization of ventures; too often, investment decisions are made individually. Yet because all new product candidates are competing for the same pool of resources (both people and dollars), each should be ranked within the context of the whole portfolio.
The organizations with the highest ROI2 don't use NPV as the sole criterion for project ranking, but incorporate a number of relevant metrics. These frequently include strategic fit, risk-adjusted NPV, new product portfolio balance and prioritization, and current and near-future resource availability by geography and by skill or functional area. In addition, advanced valuation methodologies — such as decision trees, simulation, and real options — can aid decision making by screening out "bad" projects early, and by limiting innovation investments on projects that never get launched, thus focusing the organization on the right opportunities and significantly shortening time-to-market.
It is also important to have a governance structure in place for new initiatives that unambiguously defines how project portfolio decisions are made. Supporting cross-functional organizational processes are required to ensure that the information needed for decision making is available. Senior management involvement in project approval, termination, and portfolio decision making is also essential for rapid and effective new product introduction.
Development. Organizations with high ROI2 put a project through its paces quickly, which allows them more flexibility in selecting a launch date and more time to devise and execute the commercialization plan. It also keeps spending down. Time-to-market is more critical for some projects than others; projects facing an imminent competitive threat obviously require the speediest development. We have found that delays in new product introductions directly affect development costs and returns. This last point is striking: In some categories, such as the relaunch of a prescription-only medication in the over-the-counter marketplace, a launch that takes place even a scant six months after a competitor's launch can result in hundreds of millions of dollars of lost NPV.
Efficient project management has much in common with efficient manufacturing: It eliminates waste and duplication. The most efficient companies in our survey were lean, with strong cross-functional teams including manufacturing and R&D, and they tended to run processes in parallel; less efficient competitors insisted on step-by-step execution. Yet, despite the importance of time-to-market to innovation returns, at many companies the majority of projects tend to run seriously behind schedule, Booz Allen's research has shown. Exhibit 5 illustrates a fairly typical time-to-market performance (this one for an engineered products company): The vast majority of projects are running late.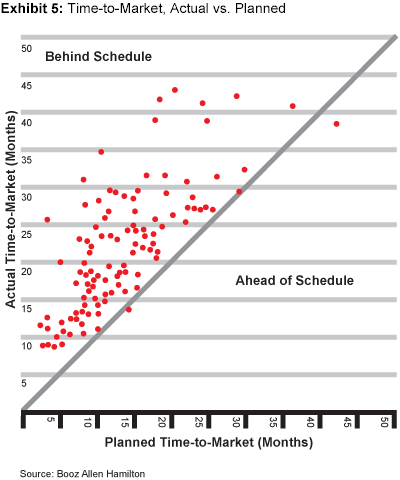 Commercialization. Given the siloed architecture of many large organizations, product development and marketing often lead a disconnected, even antagonistic coexistence. Perhaps nothing is more common within the walls of an R&D shop than to hear developers lament that their new product would have been a blockbuster "if only marketing hadn't dropped the ball."
Best-in-class innovators involve marketing early in the development process. Equally critical, and even more often neglected, is the need to turn commercialization itself into a core capability. Two prominent components of this capability are the ability to manage the supply chain to ensure that products are where they need to be when they're needed, and to promote and market the product intelligently. The best consumer products firms coordinate launch timing with retailers to take into account such factors as shelf-reset cycles and category seasonality; they also arrange optimal promotion packages to maximize the "news value" of the product.