Most organizations are inherently unhealthy. That hypothesis is inspired by experience, informed by economic theory, and now supported by hard data.
As management consultants specializing in organizational transformation, we have collectively spent decades helping clients identify and overcome the organizational impediments to effective execution. Based on that experience, we have distilled seven basic organization types — three healthy, four unhealthy — that together describe the persistent patterns of behavior we have seen in corporate, government, not-for-profit, and academic contexts. (See "The Seven Types of Organizations," below.) These types, or organizational profiles, reflect different interactions between and among four basic organizational building blocks: decision rights, information, motivators, and structure.
We applied to this typology some of the pathbreaking work on the economic theory of organizations to help us create an online assessment tool called the Org DNA ProfilerSM. (See "Research Methodology," below.) This tool enables an individual working in any organization anywhere in the world to come up with a snapshot diagnosis of his or her organization's type in as little as five minutes. It's a "personality test" for organizations, if you will. When many individuals from the same organization take the test, the aggregate results reveal the root causes of many performance failures, and pinpoint the areas where a company can focus to improve its ability to execute. Such diagnostic clarity is rare in the world of fixing organizations.
We launched the Org DNA ProfilerSM on www.orgdna.com in December 2003. To date, more than 30,000 individuals have visited the site and completed the survey. In addition, nearly 20,000 more profiles have been generated on client-specific sites set up to facilitate work with our clients in corporate, government, and not-for-profit sectors. In each of these cases, we have created a customized, password-protected site for the client to collect employee input on their organization's decision rights, information flows, motivators, and structure. The resulting "deep-dive" data sets provide us with a slightly different perspective on how and why individual companies behave as they do, and allow clients to pinpoint the root causes of their organizational breakdowns so they can then fix them. We discuss a few of these client case studies in "How Healthy Is My Company?" (below).
We continue to collect data as new individuals visit the site and complete profiles. Periodically, research updates are made available on www.orgdna.com. This report highlights key findings through the fall of 2005.
The Org DNA ProfilerSM data set cuts a wide swath across industries, geographies, and organizations. Represented are 24 sectors, from banking to transportation to energy, and more than 10 internal departments/functions (human resources, information technology, legal, etc.). We also have data on each respondent's position or level within the company (e.g., senior management, corporate staff, etc.) as well as his or her organization's size. (See Exhibit 1.)
---
Exhibit 1:
Org DNA ProfilerSM Database Includes a Broad Cross-Section of Organizations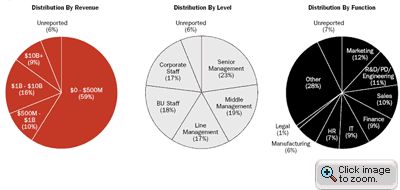 Source:
Org DNA ProfilerSM
data collected from
www.orgdna.com
, based on 30,000 responses; Booz Allen analysis
---
With the addition of a "country" field in April 2004, we began capturing information on geographic location, and we now have profiles submitted from more than 100 countries. The site has been translated into 12 languages, including German, Japanese, and Chinese. In short, the data are from an extraordinarily broad cross-section of global organizations and provide a robust sample with which to test our hypotheses.
Global Diagnosis: Most Organizations Are Unhealthy
Nearly 50,000 profiles completed over two years by individuals around the world are consistent with one central hypothesis: Most organizations are unhealthy. That is, most respondents describe their workplace as inherently ineffectual. Our "genetic marker" for an organization's health is its ability to quickly translate important strategic and operational decisions into action: 54 percent of survey respondents answer that their organizations cannot.