China offers an apt illustration. To develop manufacturing operations in China, Western companies often must set up joint ventures with local Chinese partners. However, it has become increasingly obvious that these partners may attempt to do little more than learn and adapt knowledge in order to run their own factories that compete against their former joint-venture colleagues.
Recently, another possible cost of relocation has sprung up, although it has gone mostly unnoticed. Customers are increasingly seeking a share of the profit when companies shift operations to low-cost countries. For instance, in Germany, automobile buyers demanded vehicle price reductions after they learned that the components they were purchasing were made in Slovakia rather than locally.
The problem is that existing decision models for both transformation and relocation do not thoroughly incorporate the risks of execution. To accurately gauge the cost of greenfield solutions, manufacturers would have to quantify a large number of less-than-advantageous items — including brownfield exit costs, greenfield ramp-up costs, and potential disruptions to the supply chain. They would also need to calculate whether the supply chain is resilient enough to quickly return to normal, determine labor wage instability and churn rates in low-cost countries, consider the potential defection of workers to competitors, factor in loss of goodwill, and allow for bonuses paid to key employees who would manage the move, among many other things. These expenses are rarely fully captured in decision-making equations; hence, a bias against brownfield transformation is created.
The management attention required to open a new factory in a distant site is also often underestimated. When managers are distracted by multimillion-dollar construction efforts that will require massive resources and greatly increased staff development, other parts of the company naturally get less notice. In turn, significant opportunities may be passed over that would otherwise be immediately exploited.
At the average company today, it is significantly less risky for a manager to advocate moving factory operations to the East than it is to suggest enacting a sweeping reform of the Western manufacturing base. This is simply because the former is such a popular option — "everybody's doing it." In some cases, managers fear that some budget categories relating to the decision of relocation or transformation may be underestimated or ignored, and to compensate for this they artificially increase projected expenditures to create a "buffer" against mistakes. This has the unintended effect of making it virtually impossible to make an accurate judgment about factory location, because such a judgment needs to be based on data that is transparent, precise, and consistent.
Given that relocation efforts are usually motivated by the desire to cut labor costs, it's troubling to see how many labor variables are neglected when the option to offshore is chosen. Recently, we requested manufacturing bids from a number of low-cost country suppliers, asking not only for their hourly rates but also how long it would take to produce and ship the parts. Somewhat surprisingly, we found that because of inferior work practices and lack of experience as well as the refusal of local partners and authorities to fully pass on expected labor cost savings, 75 percent of the so-called low-cost manufacturers were actually more expensive per unit produced than their Western counterparts. (See Exhibit 2.)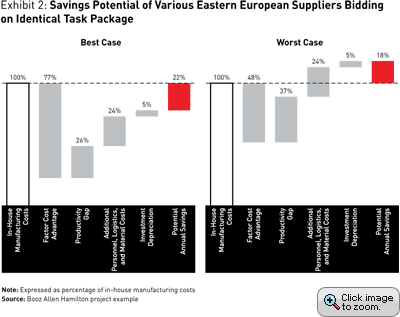 Another overlooked labor cost is the expense and difficulty of hiring indirect personnel and middle managers in low-cost nations. These types of employees are often in short supply, even in areas with high unemployment rates. As a result, either their salaries are much higher than most companies anticipate — they are basically on par with those in the West — or these professionals turn out to be volatile workers who hop from one company to the next. We estimate that about 25 percent of plant managers in China make at least 20 percent more gross salary than their European counterparts. And the significant threat that competitors could lure away indirect personnel, even after a company devotes considerable time and effort to recruit them, applies to more than the most senior and technically apt employees. A Europe-based confectionary company that had set up a plant in Russia recently learned the cost of this scramble for employees when it had to increase the pay of its forklift drivers after a number of them left to join a U.S. food company 60 miles down the road. Some, in fact, took their forklifts with them.