Decision Rights. Who decides what? How many people are involved in a decision process? Where does one person's decision-making authority end and another's begin?
Motivators. What objectives, incentives, and career alternatives do people have? How are people rewarded, financially and nonfinancially, for what they achieve? What are they encouraged to care about, by whatever means, explicit or implicit?
Information. What metrics are used to measure performance? How are activities coordinated, and how is knowledge transferred? How are expectations and progress communicated? Who knows what? Who needs to know what? How is information transferred from the people who have it to the people who require it?
Any metaphor can be pushed too far, of course. Although the basic comparison of corporate and human DNA is often invoked in general discussions of institutional culture and conduct, we think it provides a practical framework senior executives can use to diagnose problems, discover hidden strengths, and modify company behavior. With a framework that examines all aspects of a company's architecture, resources, and relationships, it is much easier to see what is working and what isn't deep inside a highly complex organization, to understand how it got that way, and to determine how to change it. (See "Focus: Testing Quest Diagnostics' DNA," at the end of this article.)
Structure
In principle, companies make structural choices to support a strategy (for example, the decision to organize business units around customers, products, or geography). In practice, however, a company's organizational structure and strategic intent often are mismatched. The variance can usually be exposed by, in effect, superimposing the organization chart — an efficient communicator of power and status in a firm — over a business unit's strategic plan.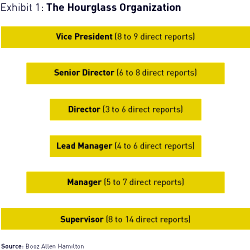 A common structural problem impeding the execution of strategy is the existence of too many management tiers (deep layers), with too many individuals at each tier having too few direct reports (narrow spans). Portrayed graphically, this structure resembles an hourglass. (See Exhibit 1.) Narrower spans in the middle often result from unclear decision rights and the company's mix of motivators. Generally, a structure shaped this way indicates trouble.
There are many reasons a certain management position may legitimately call for a narrower or wider span than another position's. Managers in complex jobs that require them to create and maintain multiple information linkages across individual units cannot handle the same number of direct reports as managers with simpler information aggregation roles. But it's also easy for spans to become too narrow for no legitimate reason.
Consider the spans of control for three senior positions at one consumer goods company with which we have worked. As shown in Exhibit 2, the category/product line manager had five direct reports, compared with seven and 10 reports for senior managers at two best-practice companies. The vice president of sales had six direct reports, versus eight and 10 at the other companies. The manufacturing manager had only seven direct reports; in other companies, similar managers had 11 or more. We have taken this measurement at more than 100 companies, and our data indicates that this company fell well outside the range found at comparable firms.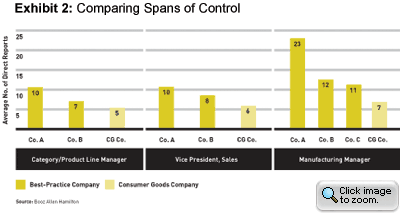 In our experience, numbers this far off the norm provide strong evidence that a company's spans are narrower than they should be. Often this results in a structure that has too many layers as well. This became evident when we explored how senior managers at the consumer goods company spent their time. About a third of it was devoted to making plans, ensuring target corporate goals were met, and dealing with exceptions and high-impact/high-risk decisions, all appropriate roles for these managers. But they were spending far too much time (roughly 40 percent) justifying and reporting performance to senior executives above them and participating in tactical, operational decisions with their direct reports. In other words, too much of their time was devoted to second-guessing the work of people below them and preparing reports so that superiors could second-guess their work. They should have been giving more of their time to preparing action plans to achieve the strategic and operational objectives of the company.