Collaboration with content partners is another critical strategy in the integrated model. Mobile operators can reward content providers through revenue sharing that gives each partner a portion of the price charged for each download of content. The Dutch mobile carrier KPN, which offers data services using the i-mode platform, has revenue-sharing contracts with several hundred i-mode–compliant content providers, and works with them to ensure that its customers experience the best service the i-mode platform can offer.
Digital Rights
Mobile operators can make themselves more attractive to content partners by embedding digital rights-management systems in their service environments. Strong copyright protection is especially appealing to music companies, which are seeking to reduce the erosion of content value by peer-to-peer file-sharing services. Our interviews in Europe and the United States indicate most music publishers won't provide their content to mobile operators unless they explicitly offer digital rights protection. Mobile operators' control over the device software and hardware is essential for them to be able to provide this protection.
Only a few of the nontraditional competitors of mobile operators, notably Nokia, Microsoft, and Qualcomm, have the technology and financial resources to seriously challenge operators on the quality of their integrated services. Still, mobile operators can find ways to work constructively with these companies through mutually beneficial arrangements, such as service-level agreements and brand tie-ins. But to benefit from their partners' expertise without sacrificing returns, mobile operators must build capabilities in all the areas that go beyond connectivity. They may not need to manufacture devices or generate content themselves, but mobile operators must increase their economic and technological sphere of influence in the wireless market so they have more control over their revenues and profits.
The integrated services approach changes the pricing model, too. Charging for services on the basis of the volume of data transmitted is a strategy that mobile operators copied from early Internet services companies. But our research shows there is no correlation between volume usage and a customer's perception of value. When we asked 700 users of consumer mobile telephone services in five major European markets in the fall of 2002 what payment methods would be most acceptable to them, 69 percent said they preferred the value-based pricing model, wherein they pay a price per download of content (1 euro per song, for example). Only 14 percent said they preferred to pay according to the volume (megabytes) of data transmitted. (See Exhibit 2.)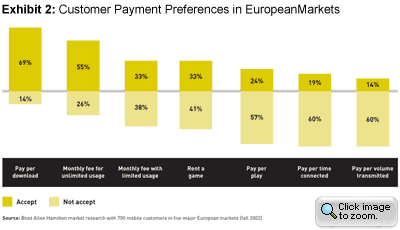 Not only is value-based pricing more acceptable to users, it is better for the business. Our analysis shows that volume-based pricing would actually decrease revenue for the popular photo, short-text, and instant message services, and would inhibit usage of music downloads, games, Internet browsing, and video telephony. (See Exhibit 3.)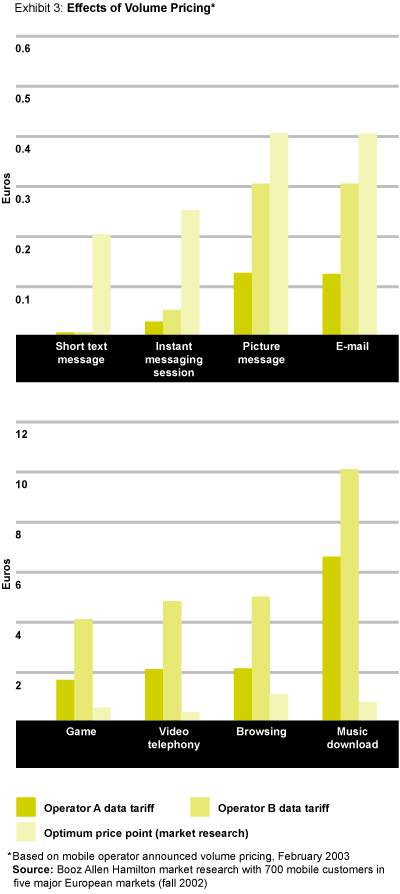 Furthermore, at the prevailing volume-based rate charged by European mobile operators in February 2003, downloading a one-megabyte music track would have cost 10 euros, but a standard text message would have cost only 0.0001 euro. According to our research, the optimal price would have been closer to 1.0 euro per download for a song and 0.2 euro for a short text message.
Emerging Lessons
The year 2003 was a watershed for the mobile data market. Consumer demand for and the supply of mobile data products and services increased noticeably, especially in Europe and the U.S. In January 2003, Nokia, the world's largest mobile device manufacturer, created a separate business division dedicated to selling multimedia handsets. Rising demand for more sophisticated mobile phones gave several European mobile operators' multimedia services a substantial lift last year, and the momentum continues.
Nevertheless, plain old-fashioned voice service remains the mainstay of the wireless business, and it will continue to be for the next several years. Indeed, in 2003, spending on voice services was $292 billion in Europe, Asia, and the United States — more than seven times as much as the $41 billion spent on mobile data service. By 2007, annual spending on data services in these regions will reach $92 billion, which is still not close to the nearly $339 billion projected to be spent on voice service.