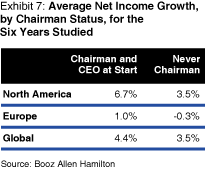 Because our results ran so contrary to the new conventional wisdom, we also analyzed the impact of separating the chairman and CEO roles on net income growth rates. The results are similar: In both Europe and North America, companies' net income growth is greater when one person has held both roles. (See Exhibit 7.) With net income, the performance differences are less pronounced and consistent than they are with TSR. But we see no evidence to support the presumption of governance activists that splitting the roles will help shareholders.
Our results lead us, however humbly, to offer a bit of guidance for the owners of public companies: Effective governance should concern itself not only with the removal of underperforming managers, but also with improving managers' performance. While it undoubtedly makes sense in some circumstances, the blanket presumption that the roles should be split confuses the secondary objective of governance — overseeing managers — with the primary goal: enhancing returns to investors. In the U.S., the emerging practice of appointing a "lead director" may, in the future, provide the company the necessary strong leadership while also providing appropriate checks and balances for shareholders.
The Outsider Paradox
Whether or not CEOs are promoted from within continues to make a big difference in how they perform. Increasingly in recent years, boards have sought outsiders to rescue a fumbling firm. This "search for a corporate savior," in the memorable words of Harvard Business School Professor Rakesh Khurana, is reflected in our findings. Globally, 28 percent of the CEOs departing in 2003 were "outsiders," hired into the job from another place. That is the highest proportion in any year that we studied. Outsiders are even more prevalent in Europe than in North America: 44 percent of outgoing CEOs vs. 28 percent, respectively, in 2003. (In Japan and in the rest of Asia/Pacific, where both the proportion of outsiders and the proportion of combined chairman–CEOs is very low among graduating chief executive classes, any comparisons are not reliable statistically.) (See Exhibit 8.)

But our research shows that these corporate saviors do not perform as well as CEOs who are promoted from within. Globally, insiders who departed last year drove shareholder returns 3.5 percentage points per year greater than departing outsiders. In Europe, departing insiders averaged 5.1 percentage points per year greater returns than outsiders. (See Exhibit 9.) Though our experience supports the growing importance of large, strategy-based transformations to improve shareholder returns, it's not necessarily the case that outsiders are best positioned to "shake up the culture" and get it done.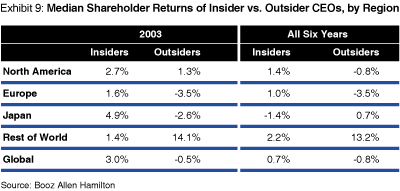 Poor outsider performance is especially pronounced during the second half of outsiders' tenures, when their returns to investors are 5.1 percentage points per year worse than insiders' returns in North America and 7.7 percentage points worse in Europe, for the six years studied. There are contrasts, however, in first-half performance. In Europe, insiders and outsiders achieved similar levels of performance during the first half of their tenures. In North America, where social and political reality better accommodate corporate restructuring and cost reductions, outside change agents deliver significantly better first-half performance than insiders. North American outsiders perform worse than insiders over their full tenure because their excellent first-half performance is more than offset by an abysmal second half.
As we reported last year, outsider CEOs were again more likely to be forced from office than insiders were in 2003. Forced turnover of outsiders reached extraordinary levels in 2003: In North America, 55 percent of outsiders who departed were forced to resign; in Europe, it was 70 percent. Globally, more than two-thirds of the insider CEOs who left office last year retired voluntarily versus only 44 percent of outsider CEOs. Across the six years, globally, only 28 percent of insiders who left office were forced out, versus 42 percent of outsiders. (See Exhibit 10.)