The ILD branched out to other countries in the last decade. El Salvador, recovering from a devastating 1986 earthquake and an 11-year civil war, recruited ILD to help it design a formalization process in the early 1990s. The initiative is still under way; it is credited with registering 70 percent of the country's informal settlements. In 1999, Egypt and the Philippines invited Mr. de Soto to begin working with them. With the subsequent publication of The Mystery of Capital, Mr. de Soto's theories have become a kind of semiconventional wisdom: generally accepted, but never fully applied until now.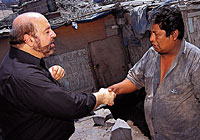 Creating Choices
Some observers, while agreeing that Mr. de Soto's concept is valid in theory, doubt that it can ever fully take hold in practice. There are too many entrenched interests threatened by his reforms, and too many necessary prerequisites for economic development that ILD doesn't address: for example, an educational system that can train people in the business skills needed for entrepreneurship, or even the widespread literacy and math needed to survive in a formalized world.
To Cornell University professor Stuart Hart (who is also the director of the Center for Sustainable Enterprise at the University of North Carolina), the ILD work falls short of necessary reforms because it requires central governments to lead the way across Mr. de Soto's development bridge. "In 30 developing-world case studies we've done at the center," says Professor Hart, "one thing comes through clearly: Central governments are the epicenter of corruption. They almost always change the rules or renege. Approaches based on cutting deals with them will almost always fail."
What is more, after 15 years of manic boom-and-bust cycles in much of the developing world, people are suspicious of most economic theories, particularly if they involve strengthening the private sector. For example, a former Peruvian banker (who is now an official in an international development agency) had this to say about the practicality of Mr. de Soto's theory of inclusive capitalism: "Hernando believes that if you have collateral, banks will behave in a rational fashion. But the banking system never got on board. Emotionally, we weren't equipped. If you lend money to someone who has spent years getting $10,000 together to build a home, and then they mortgage it to start a business and it fails, are you going to foreclose and send three kids out in the street? You stick with the middle class instead, where the worst that happens is you take away their TV." It is also of note that of the few banks in Peru that granted mortgages to newly empowered homeowners, only one — the Orion Bank, founded by a longtime associate of Mr. de Soto's — is still in business.
Moreover, ILD's natural constituents, both government leaders and shantytown and street market entrepreneurs, share a suspicion of the private sector. To most developing-world people, the term "private sector" means the old economic elites, the privileged lawyers and family-run businesses that thrive in the restricted, feudal-style economic systems. Nor is there a generally accepted identity for the emerging entrepreneurial masses. "If they had a name for themselves," says Mr. de Soto, "they would start running the country."
In short, Mr. de Soto's work will require a comprehensive shift of attitude among three groups, all suspicious of one other, all with their own entrenched habits: government officials, corporate leaders, and impoverished entrepreneurs. Unlikely though this change may seem, there are signs it is happening.
For example, the Overseas Private Investment Corporation (OPIC), a self-sustaining agency of the U.S. government that fosters private-sector investment overseas, is beginning to design mortgage guarantees tailored to countries that are reforming their property rights. "They want to become a Fannie Mae for the Third World," says ILD fellow Peter Schaefer.