As Professor Hauser notes, the capability of the computer system is rooted in such recent software refinements as conjoint-analysis tools, which can manage many variables at once and adjust their own responses accordingly. This allows a customer-sensing system to instantly rewrite the questions it poses, on the basis of what the customer has just typed in. Value-conscious consumers might sit down at a PC and find themselves taken, seemingly naturally, to considerations of price and product durability. Other consumers, motivated by style and taste, might be quizzed on such matters as colors and styles, whereas consumers interested in convenience would answer a third set of questions. Underlying all of this is a scoring logic, built into the software, that analyzes the relevance of variables for each customer. Based on customer preferences (such as safety, additional space, high performance, and reliability), it creates scores for vehicles, models, options, accessories, warranties, insurance options, and other choices. Instead of bracketing customers into predefined market categories that fit predefined offers, it uses these scores to design offers compatible with the qualities of each individual. The system also scores different forms of communication and selects the advertising copy or product information that best communicates with each customer. Exhibit 1 shows how this logic evolves with each stage of the purchase process.
---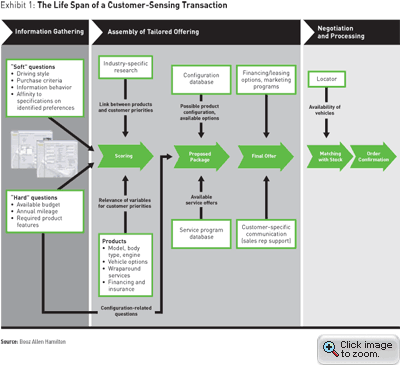 This diagram shows how an offer, in a well-designed automobile sales system with a customer-sensing capability, continually refines itself on the basis of information from a variety of sources. In the first phase (information gathering), customers provide information directly, and the system also analyzes their online behavior. As it assembles the offer, the system draws upon information it has stored about the product and service, and upon information about customers' likely priorities. Once a decision is made, the system uses all that information to match the user to a vehicle and provide the package.
---
Transparency and reliability contribute to the trust that people need to have before they will make a purchase this way. Since "less is more" in most computer interfaces — too many results or options on a screen are confusing — the best CSC approaches present a highly focused array of options in a series of successive windows. They also provide a clear explanation of the products as well as independent reviews by other purchasers, highlighting the most valuable features identified by the expert system
for this individual customer
.
Exhibits 2 and 3 show what that interface looks like in a well-conceived prototype. Screens address, in succession, what the customer wants to buy (the car and its options), how they want to buy it (how much they already know and what level of suggestion they want), and how they want to own it. At the most relevant stages of the process, the system delivers descriptions of follow-up services such as roadside assistance packages, warranties, and insurance. This might not occur at the end; a small-business owner considering a lease, for example, might want to know about the terms before selecting a car.
---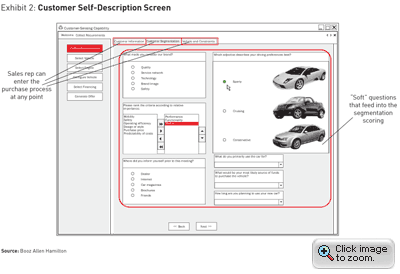 One of the earliest screens that a customer (or a sales representative serving a customer) might see. This screen shows primarily "soft" questions (about the customer's intended use of the car) rather than "hard" questions (about specific desired features and options). The green ball designating "sporty" indicates the system's recommendation based on the answers given so far.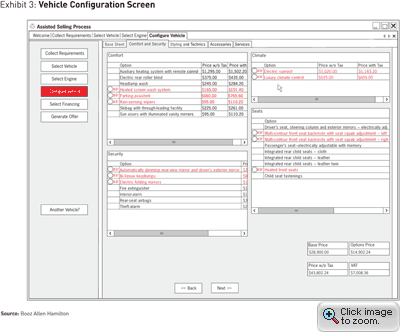 In this screen, occurring somewhat later in this hypothetical CSC process, the customer chooses options. The text in red represents the system's suggestions, triggered by the customer's answers to earlier questions.
---
The CSC system keeps track of all the consumer purchase (and decline-to-purchase) decisions, and builds a data bank of information about them. For example, it monitors the rates of closure and rejection and the changes that customers make to the packages they are offered. This information is used in several ways. The "inference engine" uses it to anticipate customers' likely needs and preferences, and modify the packages it offers accordingly. The data is also available to the dealers and manufacturers, who use it to better understand differences in consumer behavior, and to highlight emerging market trends. Component manufacturers use it to refine designs for the car's interior; dealers use it to choose which services to promote.

The CSC boosts the productivity of individual salespeople. They no longer need to spend their own time, and customers' time, tediously paging through spec sheets or repeating information that customers have already found on the Web. The system automatically suggests product-and-service bundles according to the customer's preferences, and automatically configures the package, sets the appropriate price, and develops leasing or financing options targeted to this particular customer. This helps salespeople tailor their own sales relationship with each customer, highlighting the most valuable features for that individual and gaining the benefits that a better-educated customer brings. As a senior executive at a major publicly held automotive dealer put it, "To boost our price realization and salespeople's productivity, it really helps to 'prebake' the customer — to have customers who initiate the buying process, going as far as they are inclined, on the Web or through a call center, to then come to us without having to start over."

Making Customers Whole
A customer-sensing capability places new kinds of demands on its designers, its retailers, and its manufacturers. For example, there is a temptation to propagate features, options, and opportunities. "Every option has the potential to snare [customers] into endless tangles of anxiety, regret, and second-guessing," writes Barry Schwartz, the Dorwin Cartwright Professor of Social Theory and Social Action at Swarthmore College, in his provocative bestseller, The Paradox of Choice: Why More Is Less (Ecco, 2004). Customers also have real concerns about their privacy — and about the trustworthiness of the auto industry. Therefore, both the dealers and the manufacturers have to demonstrate that they are not only responsive, but responsible with sensitive information.

Meanwhile, the new approach often feels so risky to companies that a change management strategy, including training and deliberate redesign of rewards, is needed to acclimate salespeople to the shift. Salespeople are reluctant to use the system; executives are wary of its ability to keep data safe from hackers, competitors, and identity thieves. And dealers and manufacturers often fall back on old habits — including the habit of pushing each other away. "It's hard, because dealers compete against themselves," a senior marketing executive at one of Detroit's Big Three recently told us. "We can now follow people through the funnel, from coming in, to configuring the car, to doing a dealer inventory search. We know how they get in the funnel. We can't get to that last mile — what happens in the conversations with the dealer. Dealer traffic remains a mystery."

The time for change is ripe: The emergence of large dealer groups over the last decade has significantly altered the way vehicles are distributed. These dealer groups are sophisticated operators that have assembled portfolios of franchises in pursuit of growth and profitability. They have installed professional management, focused relentlessly on performance metrics, and identified and proliferated best practices. For the larger dealer groups in the automobile industry, in fact, the key question seems to be not whether to develop a customer-sensing capability, but whether to do it on their own or work jointly with key manufacturers in their portfolio. Prospects for the industry are so poor right now that these dealer groups have little to lose by trying.

In fact, the automobile sector may be among the first to adopt this approach, if only out of desperation. It could even end up leading other sectors, becoming a model of high-quality service and relationship building. Automobile makers and sellers may well become known as builders of a better matchmaking process, right at the point where money changes hands.

Reprint No. 05407
---
Maarten Jager
(
[email protected]
) is a Booz Allen Hamilton vice president based in Cleveland, Ohio. He specializes in sales, marketing, and distribution channels in multiple industries.
---
Steven Wheeler
(
[email protected]
) is a Booz Allen Hamilton senior vice president based in Cleveland, Ohio. Specializing in sales and marketing, he is the coauthor of Channel Champions: How Leading Companies Build New Strategies to Serve Customers (with Evan Hirsh, Jossey-Bass, 1999), and has extensive experience in automotive and other industries.
---
Also contributing to this article were Steffen Schick, a principal from Booz Allen's Frankfurt office, and Debra Walker, CEO of Apprentice Systems, a leading developer of decision-support technologies and intelligent systems based near Cleveland, Ohio (
www.apprenticesystems.com
).