Brands fail for many reasons — bad products, bad research, bad pricing, bad distribution, bad advertising, bad strategy…and bad luck. But increasingly, brands also fail when they don't adjust to market changes and quickly become less relevant.
The concept of a brand was born in a simpler and slower era of mass marketing when the brand promise was clear-cut. Today's consumers face a sprawl of product options in the supermarket and elsewhere, from tartar control, whitening, and breath-enhancement in the toothpaste aisle to pulp, no pulp, low acid, and vitamin enriched in the orange juice section. Marketing messages are delivered in ubiquitous, fragmented, and even interactive media. "We used to be one nation, undivided, under three networks, three car companies and two brands of toothpaste for all," Stacy Schiff wrote in the New York Times. "Today we are the mass niche nation."
It's no surprise that consumers and marketers are a bit baffled by each other, nor that several new marketing books are attempting to unravel the mysteries of today's customer. All Marketers Are Liars: The Power of Telling Authentic Stories in a Low-Trust World, by Seth Godin (Portfolio, 2005), and Brand Hijack: Marketing without Marketing, by Alex Wipperfürth (Portfolio, 2005), want to tell us how to sell brands to consumers who don't trust them. A third, recent but not new, book, How Customers Think: Essential Insights into the Mind of the Market, by Gerald Zaltman (Harvard Business School Press, 2003), looks into the "mind of the market," which the author describes as the "dynamic interplay between the consumers' and marketers' thoughts that determines the outcome of every buying decision." Although each of these authors takes on one piece of the marketing puzzle, a fourth book — ProfitBrand: How to Increase the Profitability, Accountability & Sustainability of Brands, by Nick Wreden (Kogan Page, 2005) — takes the broadest, freshest, and most ambitious look at brands and branding, and it is my choice for this year's best marketing book.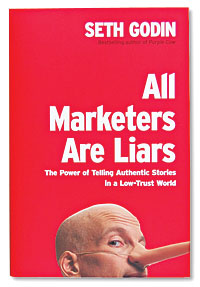 Truth and Trust
You can't not pay attention to Seth Godin's All Marketers Are Liars. A master marketer and multimedia promoter of his own work, Mr. Godin knows how to grab an audience. The cover of this book, which features a photo of the author wearing a Pinocchio-nose mask, makes him come across like a mischievous child. But he does a good job of developing, in a breezy writing style, the serious point made in the subtitle: The Power of Telling Authentic Stories in a Low-Trust World.
His premise is that successful marketers don't talk directly about features or even benefits of products and services. They tell compelling stories that are then shared and retold among consumers. "I believe," writes Mr. Godin, "that people tell themselves stories and work hard to make them true." But he also says, "I call a story that a consumer believes a lie. I think that once people find a remarkable lie that will benefit them if it spreads, they selfishly tell the lie to others, embellishing it along the way."
Georg Riedel, a maker of expensive wine glasses, is one example. Mr. Riedel believes there is a perfect (and different) shape of glass for every different type of wine. He has turned skeptical wine experts and writers into believers, and then — and this is the key — word-of-mouth marketers. Mr. Godin draws the reader into his thesis by noting tests showing that wine experts agree the same wine sipped from both an ordinary kitchen glass and the proper Riedel glass tastes better when it is in a Riedel. Then he drops the bomb: When the test is done scientifically, there is no difference in taste. Since taste is subjective, he concludes that marketing in the form of an expensive glass and the story that goes with it has more impact on the taste of wine than anything else. "Marketing, apparently, makes wine taste better," he writes wryly.