The front page of the New York Times on Sunday, May 11, 2003, stands alone in the history of journalism. It will not be remembered for a declaration of war, a stock market crash, or a revelation about governmental skullduggery, but instead for a grotesque 14,000-word apology. Beginning on page 1 and continuing on more than four full inside pages without advertising, the newspaper painfully explained how a deceitful, inexperienced Times reporter named Jayson Blair had fabricated and plagiarized news stories for months without detection. The article — by an internal task force of top editors — was a remarkable exercise in damage control, rereporting, and correcting Mr. Blair's major deceptions.
Nonetheless, it provoked blistering attacks from across the media landscape in scores of articles, reports, and books, shaking the foundations of the 152-year-old newspaper and its parent (the nation's 18th largest media company by revenue), and leading to the forced resignations of its two top editors — something rare in American journalism.
For all that, both the Times and its critics said remarkably little about why the fiasco had occurred. The firestorm at the Times — though naturally viewed through a media-centric lens by media commentators — masked a more pervasive and ultimately more important story about the internal workings and the evolving business model of the world's most important and influential newspaper organization. Family-run, highly reputable, professionally accountable, and influential, the New York Times Company, of which the newspaper is an integral part, is being forced to cope with the same strains and pressures facing other media corporations as they seek to maintain and extend their brands in an increasingly global, digital marketplace populated by aggressive conglomerates. The Blair affair, clearly a devastating blow to the Times and media industries generally, is a wake-up call for more thoughtful, orderly, and visionary leadership in organizations that are by nature resistant to change.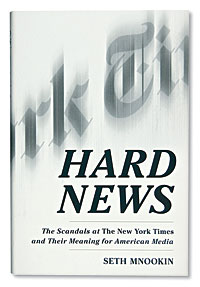 Magazine journalist and media critic Seth Mnookin captures the drama and significance of the Jayson Blair story and its aftermath in Hard News: The Scandals at The New York Times and Their Meaning for American Media (Random House, 2004). Hard News is a gripping narrative, a rare inside look at this otherwise cloistered media company, and my choice as the year's best media business book. Mr. Mnookin casts Howell Raines, named in 2001 as the Times's executive editor (the top editorial position), as chief villain. Confident, caustic, and polarizing, Mr. Raines created the newsroom culture in which Jayson Blair flourished, even in the face of repeated warnings from more cautious and less credulous colleagues. But the story also reflects badly on his boss, publisher and company chairman Arthur Sulzberger Jr. (scion of the newspaper's founders).
The Times has long intrigued management experts. It is the flagship of a diversified media company, more heavily staffed than many of its competitors, yet known for producing excellent content while generally yielding respectable profits. The company is publicly traded, but in effect under the hereditary control of its influential ruling family, the Sulzbergers. The idea that this successful, prestigious, old-fashioned enterprise might not sustain itself — at a time when other media get rich returns by dumbing down their content — worries its owners and others in media industries, as well as many of the newspaper's readers.
Decades earlier, similar kinds of concerns caused Arthur Sulzberger Sr. (the current publisher's father and predecessor) to invite management guru Chris Argyris to study the paper's organizational culture and operations. The result was a seminal, classic book: Behind the Front Page: Organizational Renewal in Metropolitan Newspapers (Jossey-Bass, 1974), which masked the identity of the Times as the Daily Planet. Mr. Argyris found an organization that was badly managed and rife with organizational pathologies — secrecy in decision making, win–lose dynamics, withholding of information, high competition, low trust, and unwillingness among managers to speak openly or collaborate with one another.