• In-sourcing the Marketing Value Chain. The new marketing organization will start to reintegrate the marketing supply chain. For the first time in decades, marketers will develop their own in-house, proprietary, and custom media operations. This wave of in-sourced media will put a premium on the marketing department's ability to orchestrate a fluid marketing system with some new actors — and to do without outsourced help when it is faster and more effective to develop these tools internally.
The shape of the future of marketing is too novel and too important to be left to traditional marketers. Just as P&G pioneered brand management for the 20th century, now is the time for marketers to reinvent their role — and to shuffle the marketing team to do it.
Career Trailblazers
In the long period of incremental change since the arrival of commercial TV, marketing careers followed well-trodden paths. New university graduates with liberal arts or undergraduate business degrees trained for five or six years with one of a few major companies, such as Procter & Gamble or Unilever. They got broad cross-category marketing experience, often in an international context. Working with outside advertising agencies, they bought mass communications media, available to all competitors, on the basis of syndicated research, which was also available to others for a price. Advancing marketing professionals learned to choose and integrate outside agencies into the marketing team, to interpret consumer insights from a market research study, and, using those insights, to build a brand with TV commercials, print ads, consumer promotions, and trade promotions. Thus seasoned, in their 30s they became brand managers. In their 40s, they might become general managers — or they might leap to the "agency side." This kind of career path established an industry-wide pattern: specialized grooming for a role with familiar lines and a well-worn plot. (See Exhibit 1.)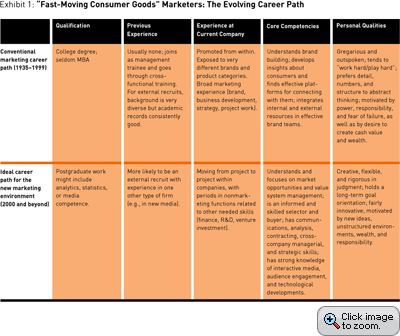 It also set a career trajectory that attracted people with energy and commitment, as well as a strong focus on action, results, and achievement. Their training helped marketers assess campaigns and pitches — for example, from advertising agencies — and to relate them to mass data on consumers and the market. But it did not attract or nurture abstract thinking. The 20th-century marketers tended to prefer detail and structure to the ambiguities and uncertainties of the new. They wanted (and knew how) to get things done, and their goal was to manufacture marketing as efficiently and as uniformly as they manufactured goods.
The capabilities required for marketing professionals in this century are already very different. Today, marketers have to create and assess business propositions built around seemingly polar opposites: vast databases on the one hand, and marketer-to-individual-customer interactions on the other. As Internet distribution of digital media moves beyond text, static images, and sound to include the equivalent of cinema and television, the range of media and consumer experiences is becoming as limitless as the number of Web pages. The 21st-century marketer will increasingly have to choose between investing in a music download site and investing in a campaign that makes use of mobile messaging, or between funding banner advertisements and funding a new video-on-demand service. Nobody yet really knows how to make all of these decisions with consistent success. It will require a great deal of experimentation and risk taking — qualities associated more with R&D than with marketing.
Most contemporary marketers are not accustomed to shaping, producing, and directly overseeing the media in which they place advertising. Yet those are the skills that are most needed today. Just as Procter & Gamble was active in the design and development of early TV programming, so marketers in the current period of media and marketing flux must expect to imagine, create, and finance new kinds of digital or interactive media and the innovative new forms of advertising and marketing they engender. Marketers, working inside consumer product and service companies, not for ancillary suppliers, will be among those who invent the new programs and formats that will be to the next few decades what soaps and sitcoms were to the past: vehicles for capturing audience loyalty and imagination.