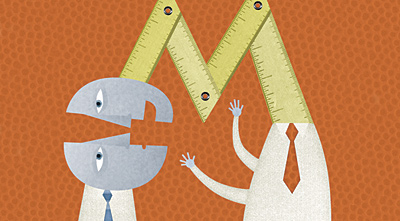 Paul W. Farris, Neil T. Bendle, Phillip E. Pfeifer, and David J. Reibstein,
Marketing Metrics: 50+ Metrics Every Executive Should Master
(Wharton School Publishing, 2006)
Clyde M. Creveling, Lynne Hambleton, and Burke McCarthy,
Six Sigma for Marketing Processes: An Overview for Marketing Executives, Leaders, and Managers
(Prentice Hall, 2006)
Dick Stroud,
The 50-Plus Market: Why the Future Is Age Neutral When It Comes to Marketing and Branding Strategies
(Kogan Page, 2006)
Jean-Marc Lehu,
Brand Rejuvenation: How to Protect, Strengthen, and Add Value to Your Brand to Prevent It from Ageing
(Kogan Page, 2006)
Bill Schley and Carl Nichols Jr.,
Why Johnny Can't Brand: Rediscovering the Lost Art of the Big Idea
(Portfolio, 2005)
Martin Roll,
Asian Brand Strategy: How Asia Builds Strong Brands
(Palgrave Macmillan, 2005)
---
Ten years ago, typical CEOs wanted "creativity" or "impact" from marketing. Today, they demand accountability. How well marketing responds to this demand will determine whether that function gets absorbed into other departments, like sales or customer service, or whether it changes to assume a strategic seat at the table, just as purchasing and shipping evolved into supply chain management.
The strategic value of marketing is well recognized. It is critical to launching new products, ensuring customer retention, battling competition, and growing sales. But, at the same time, marketing gets no respect. In downturns, it is the first function frog-marched to the guillotine. New products are "thrown over the wall" at marketing with little warning and, much worse, little input from marketing itself. It's not surprising that sales and finance spawn many more chief executives than marketing does.
That said, the marketing profession has brought its reputation on itself. Too often, marketing insists on dancing to the beat of its own drummer. It pays homage to creativity or pursues the holy grail of the "big idea" when the rest of the organization runs on data. Like an untrained puppy, it chases the latest fads, like the importance of smells to branding.
Understandably, CEOs are less interested in smells than they are in answers to the question, What are we getting for our money? Despite the fact that marketing generally represents an organization's second-biggest expense (behind operations), many marketing professionals have difficulty answering that question. Instead, they (and the agencies they hire) cite concepts that lack analytic rigor — "awareness," "brand essence," "brand equity." Or they descend into silliness — "marketecture," "brandology," "contenterprise." Or they recycle concepts such as AIDA (awareness, interest, desire, action), which emerged from itinerant salesmen during the late 1800s; the 4 Ps (product, price, place, and promotion), which dates to the 1920s; and "positioning," a theory that worked its way into marketing genes back when polyester suits were cool. No wonder the rest of the organization rolls its eyes.
As Jim Stengel, chief marketing officer of Procter & Gamble Company, says, "Marketing is a $450 billion industry, but we are making decisions with less data and discipline than we apply to $100,000 decisions in other aspects of our business." Several of this year's best new marketing books tackle the challenge of proving marketing's worth.
Relief for the Innumerate
The first book, Marketing Metrics: 50+ Metrics Every Executive Should Master, steps into the void between cause and effect to provide the measurements required to evaluate almost every aspect of marketing and sales, including such traditional components as customer perception, product strategy, channel management, promotion, and revenue and cost structures. It also delves into such nontraditional marketing areas as customer profitability, Web metrics, and even the complexities of pricing. That last area is a real service to readers: Pricing is intertwined with almost every aspect of branding, yet most branding books duck the issue with a throwaway insight — "brands enable higher pricing," for example — that fails to explain how to leverage that key contributor to profitability.