Indeed, people involved in global enterprise have a growing feeling of déjà vu: a sense that no matter whether they're in China, Eastern Europe, or Brazil, they have seen similar market dynamics before. And they have; the life cycle of emerging markets is no figment of the imagination. As global communication and transportation bind the world ever more tightly, global corporations are discovering how relevant their experience can be — as long as they are willing to recognize the current stage of market development in each country they enter, and then adjust their strategies accordingly.
As a country evolves from developing nation to industrialized nation, the population's basic needs pass through four distinct stages. In developing countries, most of the population is preoccupied with basic survival — obtaining adequate food, shelter, and clothing. (Much of sub-Saharan Africa is in this stage right now.) As a middle class emerges, people seek greater quality in their food, housing, and clothing. (This is currently happening, for example, in much of China and India.) Once a transitioning market's population can afford relatively high quality, they begin to seek convenience; they buy time-saving appliances and processed foods, and they may move closer to work. (This stage is emerging today in Eastern Europe and Latin America.) Finally, as the market graduates into the realm of developed nations, the population wants customization; with needs for survival, quality, and convenience now met, people will spend a premium (as many do in North America, Japan, and western Europe) to satisfy individual tastes and desires.
Bulk Grain and Melting Chocolate
The maturation of the food value chain provides a clear example. At the survival stage, when people live primarily in rural villages, they grow their own food; they also buy basic carbohydrates such as flour and corn in bulk. Then, as they become slightly more affluent in the quality stage, they shift to basic packaged goods, including some branded staples, and a higher variety of proteins, fruits, and vegetables. At the convenience stage, often after moving to a city and taking jobs there, consumers buy branded processed foods, such as premade tortillas. In a mature economy, customers seek niche products, such as health foods. Every country fits somewhere (perhaps in more than one place) in this evolutionary progression. (See Exhibit 1.)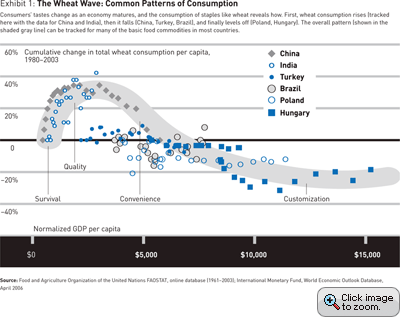 Although the overall patterns are universal, the evolution of every country is distinct, influenced by its culture and consumer habits. For example, in the confectionery markets, poorer economies tend to prefer sugar candy, which is cheaper and easier to distribute. When economies enter the quality stage, chocolate tends to take over. Yet in Mexico, where chocolate originated, chocolate consumption is low. (See Exhibit 2.)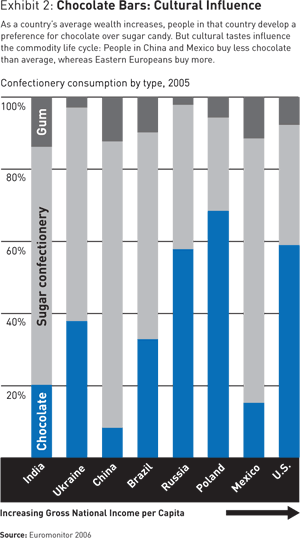 Several factors are responsible. First, Mexicans generally prefer lemon and chili flavors, which go better with sugar candy than with chocolate. Second, Mexico has a large number of local sugar manufacturers, and the North American Free Trade Agreement prevents high sugar tariffs. These factors create a very competitive market for sugar in Mexico; sugar is priced at 55 percent of the price of chocolate (in comparable countries, the figure is 90 percent). Finally, most of the distribution chain in Mexico lacks refrigeration, and chocolate can melt in transit. If it survives the trip, it may melt at the point of sale — which is dominated by small, independent grocers with poor facilities.
Mexico is thus idiosyncratically disposed against chocolate. But such distinct food preferences, which may add complexity to a company's market strategy, do not contradict the overall pattern of development.
Better Market Measures
How, then, can decision makers at a multinational corporation recognize which stage in the emerging markets life cycle a given country has reached? The main stumbling block is misleading measurements.