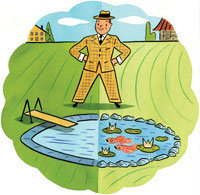 The Dual Platform
Many senior decision makers in multinational corporations intuitively grasp the life-cycle patterns of the markets they enter. But these insights are rarely translated into a global business strategy.
What would such a strategy look like? That depends on where the strategists come from. Although multinational corporations from the industrialized world see the same opportunities that the energetic new companies from emerging markets see, their challenges are distinct.
Multinationals must devise a strategy for the emerging markets that allows them to prosper while keeping their existing customer base intact. This means creating a dual-platform approach: Keep offering developed markets the existing portfolio of products and services, while adding a distinct and separate set of products and services for emerging markets.
This second platform can't simply be a cut-rate version; it must be designed as a whole for the emerging market customers, even if the two platforms are both applied within one nation. For example, the automobile industry has historically offered stripped-down versions of its regular car models to consumers in developing markets. In 2004, Renault turned that strategy upside down with its launch of the Logan, a relatively full-featured car selling for less than $10,000. As the Wall Street Journal noted in October 2006, Renault sold 145,000 Logans in the model's first full year, largely in Eastern Europe and the Middle East; production rapidly expanded from there to Russia, Latin America, and North Africa. In India, Tata Motors is outflanking the Logan with its launch of a $3,000 car — probably the first of many such vehicles aimed at drivers in emerging markets. (See "One Billion New Automobiles," by Bill Jackson and Vikas Sehgal, s+b, Winter 2006.)
Executives at a global manufacturer of swimming pool equipment grasped this dual-platform concept recently while devising a strategy for the Chinese market. At first the company's prospects in the country seemed dim because few Chinese have swimming pools. But backyard ponds with koi (ornamental carp) are ubiquitous in China and potentially in need of their own pumps, filters, and accessories. The company is now considering a dual platform in China: a fish pond business alongside its traditional business.
Another example is Cadbury Schweppes PLC, which is extending the successful dual platform that it built in India into other Asian markets. Bharat Puri, regional commercial strategy director at Cadbury, says that the company's approach hinged on a couple of key insights. First was unit price. It didn't matter to consumers that buying 25 pieces of chocolate at once was cheaper in the long run than buying a few at a time. The average Indian could afford to buy only in small quantities. After Cadbury began selling a 1-rupee package (equivalent to about 2 cents) that contained four small pieces of chocolate, sales in India doubled in a single year.
After the success of the 1-rupee package, Cadbury tried to increase its gross margins to correspond to its other markets; the company reduced its package size from four chocolates to three, while keeping the price the same. The reaction was swift — an astonishing 85 percent decrease in sales. The lesson: Consumers at every income level recognize and demand value. (Not surprisingly, Cadbury quickly restored the fourth chocolate.)
Another lesson involved finding ways to adapt to local infrastructure. Many Indian retail establishments, like their counterparts in Mexico, lack refrigeration. Cadbury altered its formula so that India's chocolate has a higher melting point than chocolate sold in Europe. Meanwhile, Cadbury began distributing coolers to retailers in India; it has given away about 100,000 so far.
Finally, Puri says, a company needs to insert itself into the local culture. Eight years ago, chocolate gifts were rare, but today they are popular. Cadbury co-opted a local phrase, "Have something sweet today," which means have a good day, as its slogan and pushed the idea of chocolate gifts around Diwali, one of the country's most popular holidays.