• Access to talent. As the advantage of low-cost labor erodes, other reasons for investing in global R&D have become more prominent. Many companies are heading overseas in search of access to the burgeoning numbers of talented engineers and scientists around the world, and to the ideas that they are generating. The number of skilled engineers is increasing rapidly, not just in India and China but in many other countries, and their importance at every stage of the innovation value chain — from ideation to research to product development and testing — is growing. Global companies are learning quickly that specific countries are gaining specific skills (automotive engineering in India, electronics in China), and they are chasing that talent accordingly.
• Market proximity and insight. As companies sell their products and services in markets around the world, they find it valuable to site R&D closer to those growing markets. The automotive industry is a case in point: The demand for cars is rising rapidly in developing countries. Consumers in such markets aren't looking for the sorts of cars that sell well in the U.S. or Europe — in part because they can't afford them. But they don't want cheaply built cars either; they want high-quality, low-cost cars. Selling successfully in these new markets requires the engineering talent to rethink the design of cars for these markets. And that understanding and talent is harder to come by in Detroit or Stuttgart than in Shanghai or Mumbai.
The Performance Payoff
Overall, our analysis suggests that companies taking a more aggressive posture in globalizing their R&D footprint enjoy stronger sustained financial performance. Of the 184 top spenders that we studied closely, those that deployed more than 60 percent of their R&D outside their home countries tended to perform better, over the past three years, on several performance indicators, including operating margin, total shareholder return, market cap growth, and return on assets. These results indicate that for these companies there is a payoff from greater deployment of capabilities and capacity on a global scale, and greater success in serving local market needs. (See Exhibit 2.)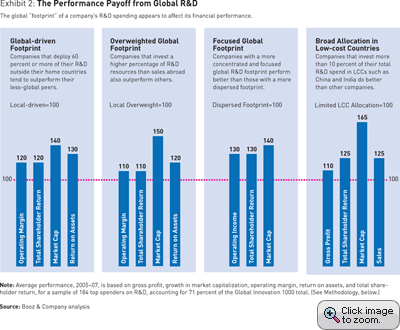 The same holds true for the companies we studied that are working to ensure that their R&D footprints are more global than their sales footprints — those whose percentage of research and development resources in­vested overseas is higher than their percentage of sales overseas. Indeed, for such companies, three-year market cap growth was 50 percent higher than for those who underinvest globally.
However, not all global innovation strategies are created equal. An international footprint for R&D, in itself, is no guarantee of improved performance. To succeed, companies must develop R&D strategies that are carefully aligned with overall corporate strategy and appropriate for the business environments in which they operate. Then they must execute those strategies through careful management of their far-flung R&D empires. Companies that approach their innovation footprint this way tend to perform better on a variety of performance indicators.
A network of fewer, larger R&D facilities seems to support stronger performance results. The companies in our sample with a more concentrated and focused global R&D footprint perform 30 percent better on three-year operating income growth and total shareholder return, and 40 percent better on three-year market cap growth. Because these companies deploy their R&D energies more carefully, they can make better use of resources, manage their R&D networks more effectively, and improve communications and collaboration. They also take advantage of economies of scale to leverage critical factors such as training, IT support, and lab facilities. Indeed, we have noted in our work with multinational clients that attempts to conduct R&D with complex teams at multiple sites can be problematic if the right IT infrastructure, communication processes, and training programs are not in place. At one company we studied, for example, the cumulative churn of product requirements for development execution increased from 23 to 54 percent as the number of locations participating rose from one to four, and multisite projects overran planned budgets by more than 20 percent.