Finally, if somewhat unsurprisingly, companies that invest more than 10 percent of their total R&D spend in LCCs such as China and India do better — 25 percent better on three-year sales growth, and as much as 67 percent better on three-year market cap growth. Clearly there is still some money to be saved by arbitraging labor costs, even among the highly skilled engineers needed for complex corporate R&D projects. Yet just as important is the knowledge gained about how to better serve those fast-growing local markets.
For every company, in every industry, the decision to globalize R&D activities involves a combination of business strategies designed in response to specific business needs: cost reduction, attraction of talent, access to markets and market insight, and operational improvement. Companies in the three industries that together represent nearly 70 percent of all global R&D — auto, computing and electronics, and health care — face their own set of innovation footprint challenges, revealed by our data and in interviews with key executives. (See Exhibit 3.)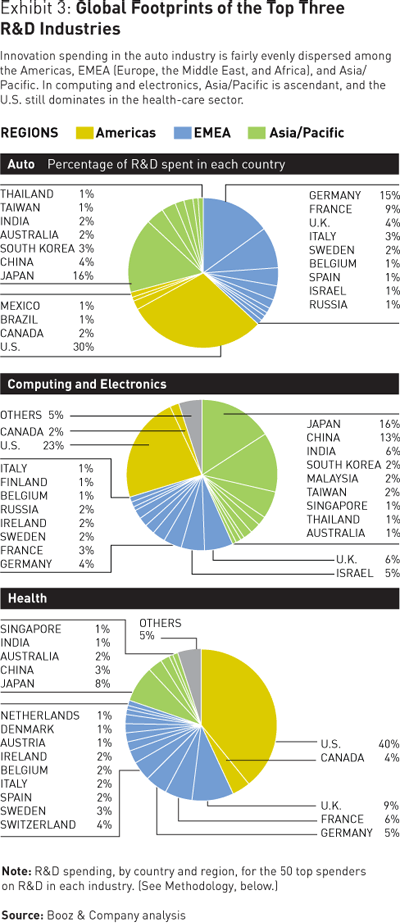 Auto: Driven by Demand
The auto industry was the third-largest spender on R&D in this year's study. The 72 auto companies with the highest level of R&D spending had revenues of $2 trillion in 2007, and spent $79 billion on R&D. That was up 8 percent over the year before, and made up 16 percent of total corporate spending on R&D.
Thus the auto industry spent 3.9 percent of sales on its R&D efforts in 2007, a level of the "intensity" of spending (R&D spending as a percentage of sales) just 0.2 percentage points above the average for the Global Innovation 1000 as a whole. That figure has risen over the past several years as the industry's investments in new power trains have grown and its global R&D footprint has diversified significantly. Fully 83 percent of the industry's 2007 R&D spending came from companies headquartered in just three countries — the U.S., Germany, and Japan — yet only 60 percent of total R&D spending took place in those three countries. The diversification of auto R&D suggests the importance of emerging auto markets to every auto company around the world.
Visteon Corporation, the U.S. auto parts maker, is one company that has seen the writing on the auto industry wall, and has reacted accordingly. In just the past eight years, since it was spun off by Ford Motor Company, the $11.3 billion company has been transformed by its newly global strategy. More than 90 percent of Visteon's revenues once came from Ford. But after 2005, when the company sold a significant portion of its North American operations back to Ford, its geographic distribution became evenly divided among North America, Europe, and Asia. And now, the balance has tilted heavily overseas. In the first half of 2008, according to Asaf Farashuddin, Visteon's vice president of corporate strategy, North American revenues made up just 25 percent of the total, the Asia/Pacific region made up 29 percent, and Europe made up 42 percent, with the rest coming from South America. The com­pany's global R&D footprint is even more heavily invested outside the U.S. than its revenue sources would suggest: Of its 18 R&D facilities worldwide, only three are in the U.S., whereas nine are in Europe, five are in Asia, and one is in Mexico.
"We expect our revenue diversification to continue — with less of our total revenue based in the traditional automotive markets in the coming years," says Farashuddin. "By 2010, we expect Asia to be our largest region, with 37 percent of revenue, and Europe and North America to be less than 30 percent each." Similarly, in 2005, just 19 percent of Visteon's engineering took place in emerging markets; by 2007, that had grown to around 35 percent. "Five years from now, the majority of our engineering will take place in the emerging markets of the world," Farashuddin says.