A similarly significant trend is the movement away from so-called measured media, such as advertising (which has been measured by conventional tracking methods such as TV viewer ratings), to "below-the-line" marketing categories such as promotions, loyalty programs, word-of-mouth, events, and any form of retail store display or shopper marketing. (This includes coupons, customized displays, and custom packaging, called shippers, that organizes the product on the shelf and delivers a promotional message.) At nearly three-quarters of a trillion U.S. dollars per year across all product categories, spending on below-the-line marketing programs already tops spending on traditional measured media advertising for most product categories, and it is growing more than three times as quickly, with 6 percent annual growth.
Within the realm of below-the-line marketing, in-store advertising promises to attract substantial marketing dollars, for a number of reasons. First, it transforms the way marketers interact with consumers. Since people make most purchase decisions at the shelf, in-store advertising allows marketers to reach them just before the "first moment of truth" (as Procter & Gamble Company CEO A.G. Lafley calls it), when they pick up the product. Second, in-store advertising can increase the effectiveness of the rest of a marketing campaign, "activating" promotions and sponsorships by making them click in consumers' minds. For instance, if an individual has caught glimpses of Olympic gymnast Shawn Johnson in magazine ads and TV commercials for Procter & Gamble's Secret deodorant, those impressions — and the brand attributes P&G is seeking to reinforce in its integrated campaign — will be triggered when they see her face in a video ad running on a screen near a product display in the store.
Today, marketers can run ads on in-store video networks spanning thousands of screens in retail stores. Given the number of times these ads are viewed over a week or month, they reach more consumers than the major broadcast networks. These ads can increasingly be targeted to a specific aisle in the store, rather than to the store as a whole, allowing marketers to run their ads closer to their promotional displays, and at the time of day when their shoppers are most likely to be present. Targeting by geographic market (for example, by the store's zip code) will allow more granular delivery of marketing messages, reaching the specific sets of consumers with the greatest likelihood of buying the product, based on their income and demographic profile.
Currently, in-store media is only a US$500 million annual business. But it could equal (or even exceed) the growth rate of its online counterpart, especially since the rate of growth for newly introduced media appears to be accelerating. It took cable television 25 years (from 1981 to 2006) to reach ad sales of $20 billion. It took Web-based advertising about half as long, from 1995 through 2008, to reach the same milestone. Could in-store media reach it even faster? Nearly half of consumer packaged goods (CPG) manufacturers plan to increase their investments over the next two years. (See Exhibit 1.) Although these investments will focus on grocery, drug, convenience, and big-box stores, other sectors could drive advertising in other retail channels — technology companies in consumer electronics stores, for example, or building-products manufacturers in home improvement outlets.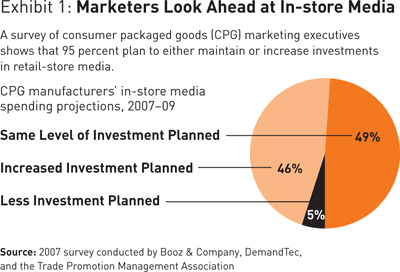 Tracking the Transition
The money to fuel in-store advertising's dramatic growth will come from several sources. Some marketers, seeking to develop integrated campaigns, will think in terms of overall "video spend," including in-store video, rather than having separate TV, online, and out-of-home video sources. For other marketers, "alternative out-of-home spending" will continue to increase, especially as media in outlets such as health clubs, sports arenas, and transportation hubs become more prominent, and more digitally enhanced. Finally, shopper marketing budgets that tap into promotional spending to drive consumer behavior in the store will increasingly in­clude video ad networks as a component.