These unreasonable entrepreneurs have all the traits generally associated with traditional entrepreneurs, but, according to Elkington and Hartigan, they also have an ability to "spot dysfunction in the current system" and a willingness to "transition the system equilibrium to a different — and more functional — state." In the process, these stars are creating new organizational forms. One such model is the hybrid nonprofit, in which for-profit businesses generate revenue to support not-for-profit activities. The Aravind Eye Care Sys­tem of India, for example, operates a for-profit business that treats more than 2 million patients a year, and provides resources and training to similar firms in other countries. Its high-quality market-rate services finance no-cost or very low-cost ser­vices for patients who are unable to pay. (See "The Innovation Sandbox," by C.K. Prahalad, s+b, Autumn 2006.)
The authors quote Ibrahim Abouleish, who founded Sekem. As described in the book, Sekem is an Egyptian holding company of six diverse businesses, including biodynamic farming, plant-based pharmaceuticals, financial services, information technology, and human resource services. "The Sekem initiative," says Abouleish, "was founded to realize the vision of sustainable human development. It aims to contribute to the comprehensive development of the individual, society, and the environment."
Elkington, founder and director of the strategy consultancy and think tank SustainAbility, and Hartigan, managing director of the Schwab Foundation for Social Entrepreneurship, offer viable answers to a question that Bill Gates asked in Time: "How can we most effectively spread the benefits of capitalism…to people who have been left out?" However, two troubling assumptions underlie their work. The first concerns human nature. The capacity to apply innovation, creativity, and entrepreneurship to the bottom of the pyramid is assumed to be a special quality present in only a few people. The second concerns quality of life. Calculating the purchasing power of the world's poorest is a useful carrot to entice entrepreneurship, but the poor are perceived solely as potential consumers, rather than as contributors to a thriving community-based economy.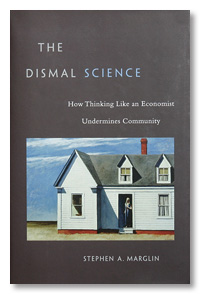 Homo Economicus Grows Up
In The Dismal Science: How Thinking Like an Economist Undermines Community, Stephen A. Marglin seeks to offer a more balanced view of Homo economicus. The Harvard economist argues that assumptions underlying free-market economic theory — that human beings are independent actors with perfect knowledge driven solely by self-interest and insatiable desires for ever more wealth accumulation, a drive that ultimately is manifested as the well-being of the nation-state — are more cultural mythology than universal truth. And he lays the negative consequences of capitalism at the feet of this erroneous world view.
Marglin says development economists in particular subscribe to two dominant views of people and societies. The first asserts that humans are essentially the same whatever their cultural context. The citizen of a developing nation — the "other" — is thus seen as "a miniature adult, and development means the tender nurturing by the market to form the miniature Indian or African into a full-size American." The second view places great emphasis on cultural dissimilarities and sees the "other" cultures as needing "structural transformation and cultural improvement" to take on the "adult" qualities of the industrialized nations.
Both views share an unrelenting "confidence in the superiority of Western culture" and therefore imply the inferiority of other cultures. They also lead to a standard of human development, Marglin writes, that is mea­sured by "progress from intuitive, inarticulate, cooperative, contextual, and personal modes of behavior toward rational, principled, competitive, universal, and impersonal modes of behavior; that is, from 'weak' modes generally regarded as feminine and based on experience to 'strong' modes regarded as masculine and based on algorithm."