Four Models of Management
This year we applied an additional lens to our study of CEO succession events at the world's largest companies by examining the impact of the corporate core. The corporate core is made up of the CEO, his or her senior team, and a defined set of support functions necessary for the entire corporation. Back when the senior management team of a typical large company could all have offices in one location, this was known as headquarters. All corporate cores provide leadership, create the context for growth, represent the corporation to the public and investment community, and provide essential services to the business units, which are consigned maximum responsibility for money-making activities. That's where the similarities among companies end. As any CEO can tell you, each corporate core is a unique blend of skills, responsibilities, and personal management styles tailored to the nature of the businesses it oversees and the competitive environment in which it operates. On the basis of our in-depth experience with hundreds of corporations at Booz & Company, we have found that they fall along a spectrum of four different corporate models — defined by the way senior management and the corporate core engage with the rest of the business. (See Exhibit 5.)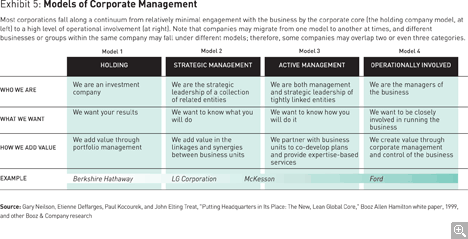 The first model, at one extreme, is the highly diversified holding company — distinguished by its arm's-length approach to managing its subsidiary operations. Holding companies add value through strong portfolio management. The second model is the strategic management company, which offers guidance and leadership on strategic direction and provides expectations of performance for its group of related businesses. The third model involves more active management. These corporate cores oversee more tightly linked businesses and advise on operational issues. The fourth corporate model is the highly operationally involved company, in which senior management plays an active role in day-to-day business decision making.
To briefly sum up each model from the point of view of a business unit leader: Holding companies want your results. Strategic management headquarters want to know what you will do. Active management corporate cores want to know how you will do it. And operationally involved executive teams want to work closely with you in running the business.
As part of our research on CEO succession and related issues, we have interviewed chief executives working within these models. Their experience sheds light on the operation of these models, the patterns of CEO succession that seem to follow the models, and the implications for business leaders.
Holding companies (Model 1) manage their businesses much as a financial fund manager oversees a portfolio of investments. The CEOs of this first group of companies have a minimal degree of involvement in operational decisions. They are primarily interested in results, not in how the results are generated. The corporate core establishes and ensures managerial and financial discipline. Holding company chief executives are a level removed — they focus on portfolio management while the second-tier executives run the businesses. If there is a problem, more often than not, its fallout is felt at that second management tier.
Warren Buffett, CEO of Berkshire Hathaway Inc., typifies this type of management. As he noted in his letter to shareholders in the 2010 annual report, "At Berkshire, managers can focus on running their businesses: They are not subjected to meetings at headquarters nor financing worries nor Wall Street harassment. They simply get a letter from me every two years…and call me when they wish. And their wishes do differ. There are managers to whom I have not talked in the last year, while there is one with whom I talk almost daily. Our trust is in people rather than process. A 'hire well, manage little' code suits both them and me."