Understanding these issues is particularly important now that innovation spending is on the rise again. After last year's 3.5 percent drop in global innovation spending, the first-ever decline shown in the data we have tracked for more than a decade, R&D outlays have recovered. Spending among the Global Innovation 1000 surged 9.3 percent in 2010, thanks in great part to the perception of a worldwide economic recovery. (See "Profiling the Global Innovation 1000," below.)
The Alignment Gap
Issues of culture have long been of great concern to corporate executives and management theorists alike, whether they apply to companies as a whole or to selected areas such as innovation. The reason is obvious: Culture matters, enormously. Studies have shown again and again that there may be no more critical source of business success or failure than a company's culture — it trumps strategy and leadership. That isn't to say that strategy doesn't matter, but rather that the particular strategy a company employs will succeed only if it is supported by the appropriate cultural attributes. So when we approached the topic of culture in the context of innovation for this year's study, our primary goals were to determine which cultural attributes were most critical to underpinning the focused capability sets required for each distinct innovation strategy that we have previously identified.
The results are clear — and may explain why many companies have difficulty making their substantial R&D investments pay off. Overall, 36 percent of all respondents to our survey admitted that their innovation strategy is not well aligned to their company's overall strategy, and 47 percent said their company's culture does not support their innovation strategy. Not surprisingly, companies saddled with both poor alignment and poor cultural support perform at a much lower level than well-aligned companies. In fact, companies with both highly aligned cultures and highly aligned innovation strategies have 30 percent higher enterprise value growth and 17 percent higher profit growth than companies with low degrees of alignment. (See Exhibit 1.)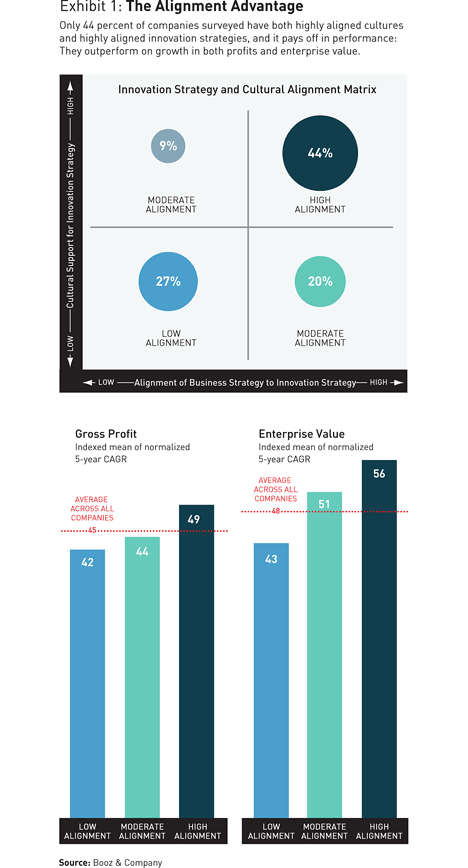 On the other hand, companies whose strategic goals are clear, and whose cultures strongly support those goals, possess a huge advantage. 3M is a case in point. Palensky articulates his company's innovation strategy clearly: "We call it 'customer-inspired innovation.' Connect with the customer, find out their articulated and unarticulated needs, and then determine the capability at 3M that can be developed across the company that could solve that customer's problem in a unique, proprietary, and sustainable way."
Culture plays a critical role in this strategy, says Palensky. "For over 100 years, 3M has had a culture of interdependence, collaboration, even codependence. Our businesses are all interdependent and collaboratively connected to each other, across geographies, across businesses, and across industries. The key is culture."
Despite their differences in performance, most companies strongly agree on the strategic goals that matter most in achieving innovation success: "Superior product performance" and "superior product quality" were ranked number one or two by a plurality of more than 40 percent of all respondents. Other goals, such as "developing low-cost products" and "speed-to-market," were given much lower priority. (See Exhibit 2.)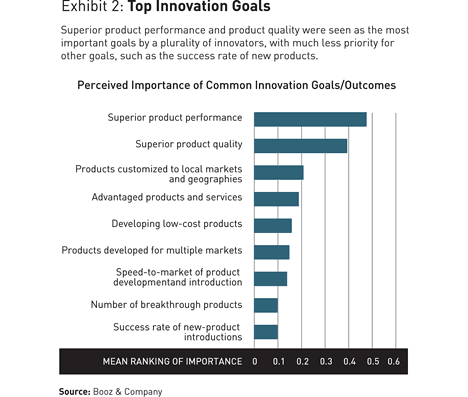 Similarly, companies agree strongly on the cultural attributes that are most prevalent at their companies. More than 60 percent cited "strong identification with the customer" as among the top two, and 50 percent chose "passion for and pride in products." The lowest ranked was "tolerance for failure in the innovation process." (See Exhibit 3.) This finding, which contradicts some of the academic research on the subject, raises serious questions about companies' real appetite for risk taking in their innovation practices.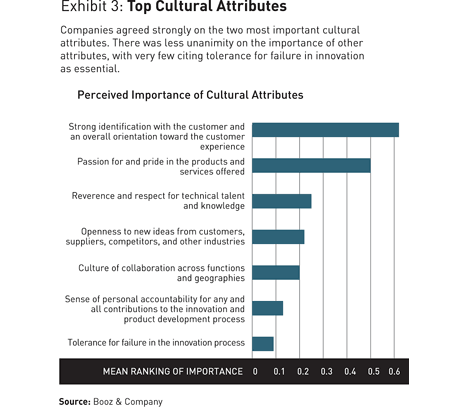 In general, companies also continue to show a range of significant gaps in how their strategic goals and cultural attributes contribute to performance and support their innovation. Companies that underperform their peers have much to gain if they can close these gaps and achieve much higher degrees of cultural and strategic alignment. We believe the way to do so lies in gaining a greater understanding of the cultural attributes that any given company needs to foster, given its particular innovation strategy. Soma Somasundaram, executive vice president of the Fluid Management segment at the Dover Corporation, describes the challenge this way: "Poor innovation performance is usually not caused by a lack of ideas or lack of aspirations. What some companies lack is the structure needed to effectively dedicate resources to innovation. It's the lack of will to develop a strategy that can balance today's need versus tomorrow's."