Three Strategies
As in previous years, this year we classified the companies that responded to our survey into the three core innovation strategies via our online Innovation Strategy Profiler. The profiler characterizes a company's innovation strategy based on its approach to incremental versus breakthrough innovation and the role that end customers play in defining future product needs.
• Need Seekers actively and directly engage both current and potential customers to help shape new products and services based on superior end-user understanding. These companies often address unarticulated needs and then work to be first to market with the resulting new products and services.
• Market Readers closely monitor both their customers and competitors, but they maintain a more cautious approach. They focus largely on creating value through incremental innovations to their products and being "fast followers" in the marketplace.
• Technology Drivers follow the direction suggested by their technological capabilities, leveraging their sustained investments in R&D to drive both breakthrough innovation and incremental change. They often seek to solve the unarticulated needs of their customers through leading-edge new technology.
Just as companies following any of these three strategies can succeed, so any company can manifest strong strategic and cultural alignment, no matter which strategy it follows. A closer look at the survey results, however, does suggest that companies perfecting one strategy — the Need Seekers — are relatively advantaged. They consistently demonstrate better achievement on a number of strategic and cultural variables. Additionally, Need Seekers are more likely to financially outperform their rivals than companies following one of the other two strategies.
Overall, for example, Need Seekers are more than three times as likely to report that their innovation strategy is strongly aligned with their business strategy as other companies. And Need Seekers perceived their performance in carrying out the two most critical innovation goals — "superior product performance" and "superior product quality" — to be much higher than did companies using either of the other two strategies. As for innovation culture, more than 41 percent of Need Seekers said theirs strongly supported their innovation strategy, compared with just 7 percent of Market Readers and 14 percent of Tech Drivers. (See Exhibit 4.)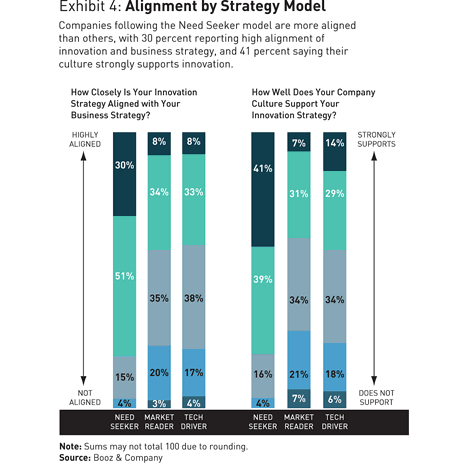 These important distinctions were borne out in other ways as well. But the most notable was financial performance. Overall, Need Seekers were 30 percent more likely to report their overall financial performance as being superior to that of their peers than the other two models, and, on average, they appear to have a much better chance of outperforming the competition than either of the other innovation models.
Our previous studies have consistently shown that companies using any one of these strategies can regularly outperform their peers, and that, although top performers had an overlapping set of capabilities critical to success no matter which strategy they followed, those top performers also had developed a unique, focused set of capabilities essential to their strategy. In this year's study, we viewed those strategic models through a different lens: which strategic goals and cultural attributes led to the greatest success within a given strategy, and how those goals and attributes contributed to the capabilities needed to achieve that success.
Thus, for instance, whereas companies following any of the three strategic models have a common set of strategic goals and cultural attributes, Need Seekers ranked as their highest innovation goal the creation of "advantaged products and services," and their number one cultural attribute as "openness to ideas from external sources." These characteristics clearly lead to creating truly differentiated products by leveraging all potential sources of good ideas. Each of the other two models has its own corresponding distinct innovation goals and cultural attributes. (See Exhibit 5.) How do those key goals and attributes aid and abet the efforts of companies in each strategy to develop the capabilities they need to succeed?