In many ways, Agilent's innovation culture stems from its history as part of HP, but Solomon notes that the company has defined its own values. Now, she says, "the cultural areas we've really tried to strengthen are speed to opportunity, customer focus, and accountability. Innovation itself has always been a strength; but to really address customer needs more swiftly and to focus on the things that matter most are where the culture of this company is today."
The Cultural Imperative
Although their innovation strategies, and their relative performance, may differ, companies like Agilent, HP, and Visteon understand what it takes to excel at developing new products that will succeed in the market: an innovation strategy that's tightly aligned with their overall strategy, a prioritized set of capabilities that match the strategy, and a supportive culture. Our analysis shows that a well-executed Need Seeker model, although it may be the hardest model to create, is also the most likely to deliver superior differentiation, profitability, and growth in enterprise value. That's because it is the model most able to get to market first with products that address unarticulated customer needs through superior customer understanding, and the most likely to have the cultural attributes and cross-organizational alignment that can sustain its success.
Yet even the most successful companies concede the difficulty of maintaining the cultures that led to their success. Palensky of 3M, certainly one of the most consistently innovative companies ever to exist, describes the challenge: "That's the thing about cultures — they're built up a brick at a time, a point at a time, over decades. You need consistency; you need persistence; and you need gentle, behind-the-scenes encouragement in addition to top-down support. And you can lose it very quickly."
The larger lesson for companies that struggle to convert their R&D expenditures into successful products, solid financial returns, and unassailable market positions is that it may not just be traditional factors like the innovation pipeline that need rethinking. Instead, companies should follow the lead of the most successful innovators in ensuring that the company's culture not only supports innovation, but actually accelerates its execution. First, make sure that the innovation strategy is clearly articulated, and communicated throughout the organization from the top all the way down to the lab bench. Second, align the technical community with top management, and give the technical leaders a real seat at the executive table. Third, ensure that the innovation agenda translates into a tangible action plan, clearly linked to a short, focused list of capabilities that will allow you to stand out in the marketplace. The tighter the connections between strategy, culture, and innovation, the more leverage your company will bring to bear in converting innovation spending into marketplace results and superior long-term financial performance.

Profiling the Global Innovation 1000
Worldwide R&D spending among the Global Innovation 1000 rose at an annual rate of 9.3 percent to US$550 billion in 2010, rebounding strongly from its recession-induced decline in 2009 — which had been the first fall in the more than 10 years of data we have studied. This year's total spending was also 5.6 percent above the pre-recession total of $521 billion in 2008, marking a return to the long-term growth trajectory for innovation spending. (See Exhibit A.)
The 2010 increase in R&D spending was less than the Global Innovation 1000's 15 percent increase in corporate revenues, but this difference was logical, given that most companies had not cut innovation spending in 2009 to the same extent that they suffered decreases in revenues and cut other expense areas that year. Thus, the increase in R&D spending in 2010, especially in certain industries and among larger companies, confirms these companies' continued willingness to invest in new and improved products and services to respond to ever more competitive markets around the world. Fully 68 percent of companies increased spending in 2010, compared with just 41 percent in 2009.
R&D spending grew in all nine sectors we track, but the computing and electronics, healthcare, and automotive sectors contributed the vast majority of the increase — 77 percent, or $36.1 billion — of the total increase of $46.8 billion. (See Exhibit B.) The biggest absolute increase in R&D spending was in the computing and electronics sector, which remained the top spender among all industries, making up 28 percent of the total. With 2010 revenues up 14.2 percent, the industry increased spending on innovation by 6.1 percent — to $16.9 billion. For the first time in the years we have studied, however, no high-technology company was among the world's top three spenders on R&D.
In healthcare, R&D expenditures increased $10.4 billion, or 9 percent. This was the fastest rate among the top three industries in 2010, in line with its 9 percent increase in revenues. That kept healthcare in second place among all industries in terms of its share of total R&D spending, at 22 percent. (See Exhibit C.) And thanks to that high growth rate, healthcare companies — primarily pharmaceutical firms — captured four of the top five spots on the overall list of the Global Innovation 1000, and eight out of the top 20. (See Exhibit D.) For the second year in a row, Roche Holding Ltd. headed the list, spending $9.6 billion of its $45.7 billion in 2010 revenues on innovation. That works out to an R&D intensity rate of more than 21 percent, 11 percentage points above the industry average. Automotive companies were also absent from the top-spender slots: Toyota, which had been number one in R&D spending for several years before the recession, fell to sixth place in 2010, having increased its spending less than 1 percent in 2010, after cutting it almost 20 percent in 2009. Overall, however, the auto sector boosted spending by $8.8 billion, or 8 percent, in 2010, after having cut R&D outlays by 14 percent in 2009. That kept it in third place among all industries in terms of total R&D spending. Revenues for the automotive sector in 2010 were up 16.5 percent over 2009.
The geographical distribution of innovation spending tells an equally varied story. Every region increased R&D spending in 2010, a significant turnaround from the previous year, when the three regions that make up the lion's share of innovators — North America, Europe, and Japan — all cut back. The turnaround was cautious in both Europe and Japan, which increased spending at rates significantly below the average of 9.3 percent. North American companies, however, which had cut R&D spending by almost 4 percent in 2009, increased their spending in 2010 by more than 10 percent.
Innovation spending by companies headquartered in China and India — and to a lesser extent those in the rest of the world — continued to boom, albeit from a small base. After having increased spending more than 40 percent the year before, Indian and Chinese companies almost matched that rate again in 2010, upping their investments in R&D more than 38 percent. And companies from other regions around the world increased their spending almost 14 percent. (See Exhibit E.)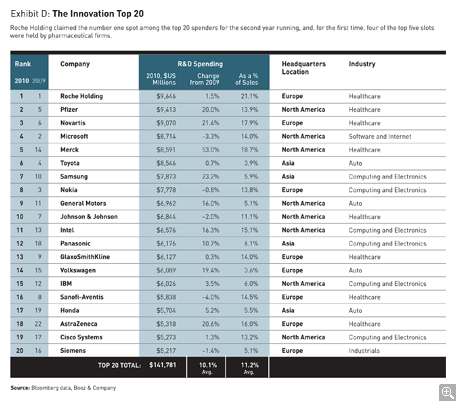 The downturn in innovation spending in 2009 was a clear indication of just how difficult the economic environment had been for many companies; it was both surprising and encouraging that R&D spending fell as little as it did. Similarly, the healthy increase in 2010 shows just how determined companies are to keep competing for market share. If there is a note of caution in this year's data, it is an entirely justifiable one, given the all-too-gradual pace of recovery in some regional markets and general uncertainty about the global economy, which calls into question whether this pace of R&D investment growth will continue in 2011.
— B.J., J.L., and R.H.