The 10 Most Innovative Companies
This year, we again asked our survey respondents to choose the companies they thought were the most innovative. And again, Apple Inc. came out on top. Seventy percent of respondents named it one of the three most innovative companies, and more than half voted it number one — no surprise, given the company's strong performance this year. The iPad continues to define the market for tablet computers, and Apple has been vying with the Exxon Mobil Corporation as most valuable company in the U.S. by market capitalization — a testament to the innovative vision of the late Chairman and CEO Steve Jobs.
Following Apple, again, were Google and 3M, with 44 percent and 19 percent of respondents including them among the top three, respectively. (See Exhibit F.) This year, Facebook entered the list for the first time, suggesting the growing power of social media as a rich source of innovation on the Internet. (Because Facebook is still private, however, reliable financial data is not available.) Altogether, the 10 most innovative companies boasted significantly better financial results over the past five years than did the top 10 spenders on R&D, especially when results are considered in terms of earnings as a percentage of revenues. (See Exhibit G.)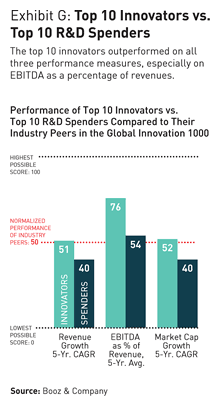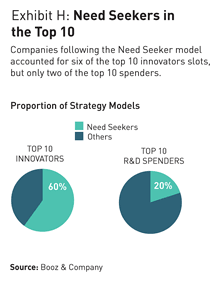 This year, we also looked at the innovation strategies followed by the top innovators. The results are striking, especially in comparison with the results of the top spenders. The four most innovative companies, and six of the top 10, all follow the Need Seeker strategy (and Apple is the classic example). In comparison, only two of the top 10 spenders are Need Seekers. (See Exhibit H.) We rather expected these results, given our findings that companies pursuing a Need Seeker strategy have a greater likelihood of success, thanks to their advantage at assembling the optimal set of capabilities and creating the culture needed to achieve superior performance.
It is also worth noting that although six of the top 10 spenders are pharmaceutical companies, not a single pharmaceutical company was voted onto the list of the most innovative. Indeed, only three companies appear on both top 10 lists: Microsoft, Toyota, and Samsung. Overall, the results show, as we have been saying for years now, that success in innovation isn't about how much you spend, but rather how you spend it.
— B.J., J.L., and R.H.
The Silicon Valley Advantage
by Barry Jaruzelski and Matthew Le Merle
Silicon Valley is famous for its long history of leadership in computing, semiconductors, software, biotech, and other innovation-based industries. But beyond its talent base and access to capital, what makes Silicon Valley unique? What exactly is the celebrated "West Coast culture of innovation"? In conjunction with this year's Global Innovation 1000, we worked with the Bay Area Council, a pro-business consortium of more than 275 companies in the San Francisco Bay area, to identify the strategic, cultural, and organizational attributes that have led to the sustained success of this region. That included segmenting the survey results we received from Silicon Valley companies in hopes of better understanding what cultural and organizational elements make them different.
Silicon Valley companies do indeed stand out. We determined that they are almost twice as likely to follow a Need Seeker innovation model, compared to the general population of companies in our global survey — 46 percent versus 28 percent — whereas the proportion of Tech Drivers is almost exactly the same as in the overall population. And they are almost three times as likely to say their innovation strategies are tightly aligned with their overall corporate business strategies — 54 percent, compared with just 14 percent among all companies. When asked whether their corporate cultures supported their strategies, 46 percent of Silicon Valley companies strongly agreed that they did, compared with only 19 percent of all companies, more than double the general population. (See Exhibit I.)
It may come as something of a surprise that Silicon Valley companies are no more likely to follow a Technology Driver innovation model than other companies are. But that, in our view, only strengthens our argument: Like many other top innovators, Silicon Valley companies not only have found success in creating pathbreaking new technologies, but are almost twice as likely as average companies to have developed capabilities that provide a superior understanding of the stated and unstated needs of their end customers. It isn't just about how many transistors you can fit on a chip, but also about how such advances can lead to products and services that gain unprecedented traction in the marketplace through superior insight into customers, as well as the development of practical value propositions that will win those customers' business.
Matthew Le Merle is a partner with Booz & Company based in San Francisco. He works with leading technology, media, and consumer companies, focusing on strategy, corporate development, marketing and sales, organization, operations, and innovation.