Note: This article was originally published by Booz & Company.
It is a perennial question in every major industry: What distinguishes the companies with a track record of M&A success? We think we've found the answer — and a few companies have figured it out, too. It's a business strategy that uses capabilities as the basis for inorganic growth.
Successful acquirers make M&A deals that either enhance their distinctive capabilities systems, leverage those capabilities systems, or do both. These companies have been rewarded with deals for which the compound annual growth rate (CAGR) averages 12 percentage points more in shareholder return than M&A deals by other buyers in the same industry and region. Even during the difficult years since the 2008 economic crisis, deals linked to a capabilities-driven strategy have tended to increase shareholder value for the acquirer — while most other inorganic growth moves have led to a loss of value.
That is the key finding of a study we conducted in 2011, analyzing more than 300 transactions between 2001 and 2009 in eight industry sectors: industrials, electric utilities, consumer staples, media, healthcare, chemicals, information technology, and retail. (See Methodology.) Deals do better when the incoming company matches the acquiring company's capabilities system. Some industries, such as information technology and retail, show a larger effect; all industries we studied, however, show a consistent, observable capabilities premium in M&A. (See Exhibit 1.) The same conclusions hold true in our research on successful serial acquirers ("Pac-Man" companies): Deals made with a capabilities perspective are far more likely to generate value over time.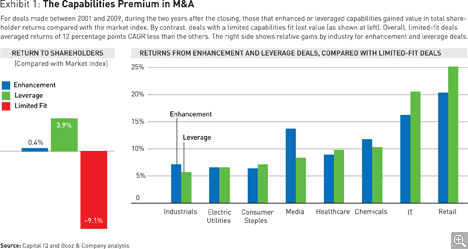 A capabilities system, in this context, is something specific: three to six mutually reinforcing, distinctive capabilities that are organized to support and drive the company's strategy, integrating people, processes, and technologies to produce something of value for customers. These are not the "keep the lights on" capabilities that every major company needs just to stay in business, such as bare-bones legal, tax, operations, and facilities management capabilities. Nor are they the competitive necessities, or "table stakes," that apply to particular industries, although there may be some overlap. Rather, they are differentiated and complementary, working together to reliably and consistently deliver a specified outcome, in support of a company's long-term strategy and market position. (See "Winning Moves for 12 Industries," s+b, Spring 2012.) These capabilities systems are typically complex and multifunctional, and tied closely to the company's identity; they take a lot of attention and investment to build and maintain. Once in place, they guide a company's way of creating value in the market and provide distinction and prowess to its products and services.
A good example of a capabilities system is that of the Walt Disney Company. Practically since its start, this company has excelled at content development for young people, channel management, experience design, and copyright protection. Disney applies these capabilities to businesses as diverse as animated films, theme parks, television and radio channels and programs, apparel, and retail, making them all distinctively its own. Amazon.com Inc. is another example: Its capabilities in online retail interface design, back-end supply chain management, merchandising, customer relationship management, and technological innovation all fit together, enabling Amazon to be a trusted, attractive, reliable e-commerce hub for products and services around the world. Another example is Procter & Gamble Company, with its highly distinctive capabilities in consumer product innovation, international marketing and brand management, and leading-edge manufacturing.
It's no coincidence that P&G (since 2000), Disney, and Amazon are all known for their successful use of M&A. Their understanding of who they are and what they do well gives them, and companies like them, an advantage when it comes to investing their capital. They avoid trying to win in areas where they have no inherent capabilities advantage; if this sometimes means they miss a chance for a quick profit, it also limits the magnitude of their mistakes. P&G has exited categories, such as food, that didn't match its capabilities system; Amazon has scrupulously held back from investing in bricks-and-mortar retail; and Disney avoids making films that stray from its target audience.