The project team "collaborates very, very closely with the external client, and becomes in a way the client's representative to us,'' said Mr. Morris, I.L.M.'s boss. "That group goes to each department, and in effect, buys services from them. They put together a budget that they're working on and try to come in at that level.
"The department heads run their units as little businesses as well," he added. "We've set up these territories of responsibility that people have to watch closely so there's no place in the company where it's just O.K. to spend money.''
This structure gives producers confidence that films will be completed on time and on budget. "The reality for me is if they say they can do it, they can do it; they say what it's going to cost, and it's fairly close,'' Mr. Franco said. "Other places you can sense the panic, the despair, the overall feeling you're not going to make it.''
The structure also gives I.L.M.'s staff a sense of freedom because it separates financial responsibility from artistic creation. "In other companies, the key creator wound up being the head of the business and that seemed to me an inherent conflict of interest,'' said Mr. Muren, I.L.M.'s senior supervisor, who has received eight Academy Awards for special effects. "I've got an effects producer who is my business counterpart, and it's his responsibility to bring the project in on budget. But I can run amok, and the director can run amok, so he has a tough job.''
Indeed, despite the much-publicized $100 million production costs for some films, there is never an unlimited budget for special effects. Because the multimillion-dollar fees of a Stallone or a Schwarzenegger, plus a star director and multiple script writers, can result in $50 million in "above-the-line'' expenses before one frame is shot, there is instead a constant pressure to keep effects costs down.
Even a director of the stature of Mr. Spielberg, who can work with whatever effects shop he chooses, must keep an eye on the budget. "There's pressure all the time,'' said Kathy Kennedy, of Kennedy/Marshall, co-producer of "Jurassic Park." "There's no one harder on I.L.M. than Steven when it comes to cost. It is a constant battle.''
Because I.L.M. is typically the highest bidder on a given project, directors with less stature than Mr. Spielberg are often pressured by the studios to take films elsewhere. On Batman Returns, Mr. Franco, who produced the film for Warner Brothers, had to turn to nine separate effects houses, at a combined bid of $8.2 million, rather than use just I.L.M., which put in a bid of $11 million. Nevertheless, he believes that if films were subjected to a post-production cost analysis, which most are not, the true cost of going to Industrial Light and Magic would be comparable.
"The only negative with I.L.M. is the dollar sign,'' Mr. Franco said. "The work they put out is always extraordinary.'' While others may submit lower initial bids, they charge extra for changes that I.L.M. would include at no additional cost. "These other shops chip, chip away until, at the end of the day, they cost you more than if you'd trusted I.L.M. with the whole show in the first place.''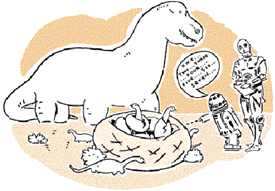 Producers say one way that I.L.M. helps keep their costs down despite its high prices is by anticipating problems before they arise. This is a function of both the staff's longevity and the substantial early development work I.L.M. does on each script.
"They do a tremendous amount of testing with their 'A-list' directors, people who go back to them time after time,'' said Ted Gagliano, senior vice president for feature film post-production for 20th Century Fox, which recently completed the reissue of Star Wars.