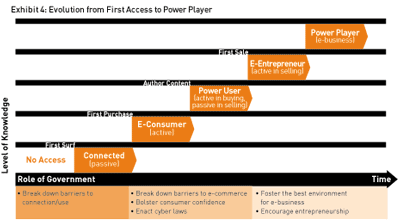 Beyond this, achieving equal access — and equal economic opportunity — requires measures aimed at those sections of the population otherwise left behind: the elderly, the economically inactive, the unskilled, and, to a lesser extent, those working in very small companies. Measures should address the principal barriers that are holding back penetration in these segments today: affordability of access, literacy and comfort with the technology, and the perception that the Internet offers little value to many individuals.
Because individuals primarily access the Internet with a PC and a modem, the cost of this equipment and the ongoing telecommunications and subscription payments are a clear barrier to access. (See Exhibit 5.)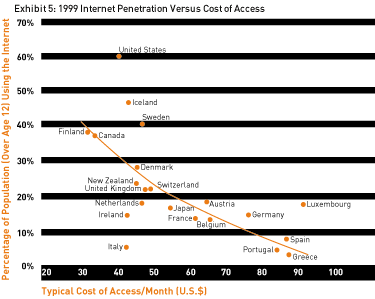 Prices are falling fast, however, which encourages use. Promotional offers — such as free PCs in return for an online subscription — abound. Flat-rate charging for telecommunications access will become more prevalent in households and small businesses when networks have been upgraded to allow the same cost-efficient technology (packet-switching) that is common in large companies today. In general, existing policies in the U.K. create the right market dynamics to support an increasingly affordable Internet.
Literacy and comfort with the Internet and computers in general are more complex issues. There is a broad consensus that schools play a pivotal role, but this ignores adult education and all those outside the educational system. It also requires a significant reorientation of teaching practices. Commercial interests are developing more user-friendly software to alleviate the initial difficulty of going online; indeed, one European science ministry is diverting the majority of its funding into sponsoring development of such applications. An additional issue is parents' concerns about the content accessible by their children. But here, too, commercial sector measures to promote "walled gardens" of safe content are advancing steadily.
In the case of creating compelling applications and content, government can lead by example, because it provides many services well-suited to the online world. Moving core government services such as job placement, medical care, and benefits administration to the Internet will in itself encourage use across the population. This may be the single largest step a government can take.
In developing online provision of its services, government — through partnership with private enterprise — can develop skills and assets in the commercial sector. This will create opportunities to promote entepreneurship so that innovative new applications are launched quickly and successfully. There are key strategic choices in developing e-government: in particular, how it manages links across agencies and services, and with the private sector, and also whether and how to create a single portal for citizens' convenience.
In addressing all these challenges, government has four levers at its disposal:
1. Creating policy (e.g., incentives, regulations) to enable the hard and soft infrastructures that will encourage Internet penetration and usage.
2. Designing and delivering government services online.
3. Rethinking the use of government assets and infrastructure: Job centers, schools, post offices, or even municipal council buildings could become Internet access and training centers.
4. Recognizing government influence as a major purchaser and employer through moving to online procurement and providing access and skills to public-sector employees.
In pursuing this agenda, the government should co-opt those private-sector bodies — regional and international — with the biggest stake in the broad development of the knowledge economy. A combined effort will harness the dynamism in the commercial marketplace and open up new markets at an earlier stage. This will also allow enterprises to take advantage of new business opportunities. As a result, the private sector should have a genuine interest in supporting the government's policy objectives — the more so because by concentrating on underserved population segments, the government will complement private-sector activity. Working in partnership with businesses will similarly allay any fears that the government is meddling in a key sector of the knowledge economy, and will free up expertise and resources to cover this complex and fast-moving area of activity. An economy in which consumers and companies feel fully able to exploit the potential of the new technology — a society in which organizations and individual citizens can access and share information and services freely — is the end game for the knowledge economy.