• A Technology Driver strategy follows the direction suggested by the company's technological capabilities, leveraging its investment in research and development to drive both breakthrough innovation and incremental change, often seeking to solve customers' unarticulated needs with new technology. An example is the German technology giant Siemens AG, which spends 5 percent of its overall R&D budget on planning for the long term, and develops detailed technology road maps within individual business units.
• A Market Reader strategy monitors customers and competitors with equal care, but the company maintains a more cautious approach, focusing largely on creating value through incremental change and being a "fast follower" of proven concepts. An example is the Visteon Corporation, which conducts well-designed research into market trends before investing in new innovations — such as reconfigurable digital displays for cars — but is prepared to move with full force and rapid speed when it discovers demand.
Research suggests that the three strategies deliver comparable financial success if tightly aligned with a company's overall business strategy. But it also demonstrates that each of these innovation models requires a distinct set of innovation capabilities to succeed. (See Exhibit 1.)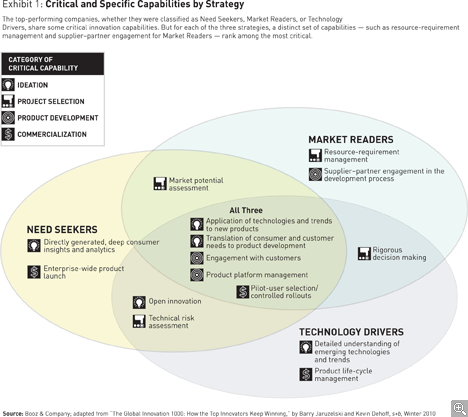 In light of these findings, companies that develop the appropriate innovation strategy must align it with their overall corporate goals and assemble a cohesive set of capabilities to gain a clear financial advantage. The key isn't to be good at everything, but rather to excel at what matters most to your success.
That's why open innovation is a critical capability only for Need Seekers and Technology Drivers. These companies rely on being early to market, with innovations rooted in either the latest technology or new customer insight. Need Seekers are continuously looking for ideas, often from customers, to drive incremental improvements in their products as well as to spur entirely new offerings. Technology Drivers depend heavily on developing new, often untested, technologies that can be converted into products. Their success depends not just on importing fresh ideas from a wide variety of sources, but also on ensuring that the products that they do go on to develop will ultimately succeed in the marketplace.
And Market Readers? These companies have built their strategy around a fast-follower model. They should focus on being strong in other capabilities, particularly in the stages of product development and commercialization.
Establishing Open Execution
Few companies have the wherewithal to develop enough new products and services to keep growing in an increasingly competitive business climate. One thing is certain: A scattershot approach to open innovation will not succeed. If you are seriously interested in open innovation, you will need to establish a systematic process for capturing the best ideas, whether from within or outside your company, and focus on the specific set of capabilities needed to capture, develop, and commercialize the good ideas that surface. Open innovation, like any key capability, can keep you one step ahead of the competition, but only if it is approached with rigor and seriousness of purpose.
Reaping the full benefits of open innovation is no easy task, especially for companies that have yet to venture into this often complex and tricky domain. We typically divide the effort into five activity areas, which are addressed concurrently: organization, external relationships, culture, processes and tools, and incentives.
• Organization. No open innovation effort will succeed without the involvement of a senior-level executive to champion the program. An innovation office with access to a dedicated innovation fund should be established under his or her auspices. The office's mission should be to seek out new ideas, and the office should put together two kinds of teams: some dedicated to developing and managing relationships with external partners; others, chosen from different business units, to organize cross-functional innovation processes.