How? The answer can be found deep within the firm's microeconomic fundamentals. Through work with clients in a number of industries, including recent transformational engagements for several leading global consumer and health-care companies, we have identified three principles we believe can improve the return on innovation investment of any company engaged in the development of new products or services. We call these principles the three pillars of innovation.
Pillar One: Understand Your Innovation Effectiveness Curve
At its simplest level, innovation is embodied by a product or service offering that contains a significant element of newness. "New" may not mean entirely new to the world, of course, since line extensions of existing brands — Colgate Whitening toothpaste, White Chocolate Reese's Peanut Butter Cups — are a frequently profitable form of innovation. True innovation can take the form of a new product, technology, process, content, or even the presentation and marketing of an existing product or service.
Our recent work has shown that incremental innovation investments are subject to diminishing returns — in other words, each additional dollar spent on new product development ultimately yields a lower and lower return. This observation passes the test of common sense: Spending beyond a certain point on any development portfolio should result in lower returns, since a company will naturally invest in the best projects first, the next-best after that, and so on, until it is tossing good money away on more and more dubious projects. Exhibit 1 illustrates this phenomenon by contrasting the innovation ROI of two companies with very different portfolios. We call the marginal return on innovation investment the innovation effectiveness curve. The larger the area under the curve, the better the firm's innovation effectiveness.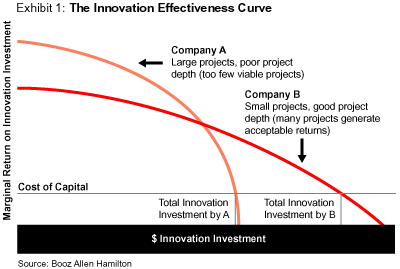 Each company — and possibly each separate business unit — has an intrinsic innovation effectiveness curve, which can be drawn easily by plotting the ROI2 of each project in the development pipeline and the cumulative innovation investment. The curve is very important: It predicts the company's future revenue, profit, and growth derived from new products. Moreover, even though projects within a portfolio change, we have found that a company's innovation effectiveness curve is surprisingly stable: It does not change substantially over time.
The law of diminishing returns in innovation effectiveness explains the numerous cases in which increases in R&D spending do not produce significant lifts in sales or growth. These companies are not raising but rather "riding the curve" — increasing their spending on idea generation and new product development, without altering the processes, systems, structures, or capabilities that determine their ROI2.
A multiyear benchmarking study we conducted in the consumer health-care industry, involving most of the sector's major global companies, showed that effectiveness can vary widely even within a single industry. We explored the sales of new products, defined as products launched within the past three years, relative to the company's total R&D spending over that same period. We discovered that companies and business units showed remarkable consistency, year after year, in their individual return on innovation investment. Moreover, we found the return on innovation investment of the best performers to be twice the industry average, and more than 10 times that of the worst performers. (See Exhibit 2.)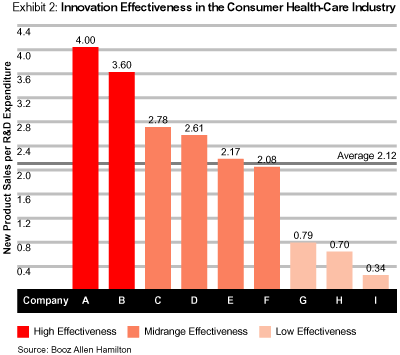 Our study found that innovation effectiveness does not correlate well with company size or with the scale of R&D investment. In fact, the top innovation performers tended to have lower relative R&D expenditures. The most effective cohort in our consumer health-care study (those companies with the highest new product profit per dollar spent on R&D) averaged 4.8 percent R&D spending as a percent of sales, while the least effective cohort averaged 5.9 percent.