Futurism used to be an expensive nostrum, prescribed exclusively by think tanks and dispensed by pundits, but now it has turned into an essential survival skill for managers, entrepreneurs, those starting out in life, and those thinking about retirement. Knowing what is happening now is necessary but no longer sufficient: We need to find clues to what is going to happen next — even if that knowledge turns our world views inside out.
In response to this expanded need for prognostication, a thousand books, keynote speeches, and consultancies have sprung forth. Skepticism rapidly set in when readers, speech-goers, and consultees recognized that an excess of foresight can be as dangerous as a dearth if such foresight pursues wrong clues or promotes faulty explanations. This year, however, has been a good one for thinking about the future: Seven new books can provoke useful insights into (if not answers to) the questions you should be asking yourself about your business, your life, and the world your grandchildren are going to grow up in: What's happening today — geopolitically, economically, technologically, socially — that wasn't happening yesterday? What's likely to happen tomorrow that isn't happening today? How should I think about these happenings? And most important: What can anyone do to influence tomorrow's events so that they favor survival, abundance, and meaning?
These books are at best sketches of what aspects of future life might look like. It's up to you to weigh the authors' insights against their biases. But if any of these books seem particularly contrary to your own values, pay closer attention to them: If you want to see clues to what hasn't happened yet, you need to recognize the meaning of what is right in front of you in new ways. Sometimes, that means looking through the eyes of those with whom you disagree. Precisely because their views conflict with yours, they might be seeing aspects of reality that you fail to see, refuse to see, or don't want to see.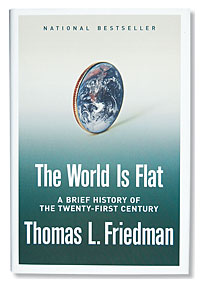 To understand what makes 2005 radically different from 1999, whether you are in Bentonville, Ark., or Bangalore, India, start with Thomas L. Friedman's The World Is Flat: A Brief History of the Twenty-First Century (Farrar, Straus and Giroux, 2005), my pick as the year's best look at the future. The dot-com bubble may be ancient history, but the forces it set in motion are only beginning to make themselves felt. Mr. Friedman offers a very definite theory of how and why your world has changed. Mr. Friedman's is the flavor of neoliberal globalization theory in which the current Davos crowd is steeped — which is both an endorsement of the theory's importance and a warning about its limits.
According to Mr. Friedman, we're halfway into the first decade of "Globalization 3.0." Globalization 1.0 started in 1492 and was driven by conquest and empire — the globalization of nation-states. Globalization 2.0, starting around 1800, was driven by the first industrial-era capitalist enterprises organizing internationally around markets and labor — the globalization of companies. Globalization 3.0, which started around 2000, is flattening the global playing field and shrinking the world of labor, markets, and ideas to person-to-person size — the globalization of individuals and small groups. (For another perspective on this, see "Carlota Perez: The Thought Leader Interview," by Art Kleiner, s+b, Winter 2005.) Mr. Friedman attributes Globalization 3.0 to 10 "flatteners," events and forces that he believes converged approximately at the turn of the millennium:
1. November 9, 1989, the date the Berlin Wall came down, marked a sharp transition from "a world of walls to a world of networks," as Mr. Friedman wrote in the New York Times, "which was critically important because it allowed us to think of the world as a single space." A big part of Mr. Friedman's forecasting methodology involves finding the linkages that tie geopolitical, macroeconomic, and technological events into the same story line: One enabler of his first "world-flattening event," for example, was the introduction of Windows 3.0, "which helped to flatten the playing field even more by creating a global computer interface, shipped six months after the wall fell."