Casella created a blue ocean by introducing a fun, nontraditional wine targeted at the U.S. drinker who does not normally drink wine — a market three times the size of the U.S. wine market. Soft, sweet, and fruity, Yellow Tail appealed to beer drinkers and ready-to-drink cocktail drinkers, without the traditional focus on tannins, oak, complexity, and aging. Casella made selection easy by offering only one white and one red wine and by replacing the technical jargon with a striking kangaroo logo.
The result: Yellow Tail became the fastest-growing brand in the history of both the U.S. and the Australian wine markets and the No. 1 big-bottle (750ml) red wine in the U.S. by August 2003 — and Casella Winery grew to be one of the largest wineries in Australia.
Mapping Strategy
The authors' study of 108 business launches offers empirical evidence of the power of blue ocean strategies: Although only 14 percent of launches they studied were aimed at creating blue oceans, these were responsible for 38 percent of revenue and 61 percent of total profits for the companies they studied.
Blue Ocean Strategy offers both a process and a set of supporting tools that practitioners can use to navigate. It begins with a "strategy canvas" that visually maps the current industry environment in two dimensions. The horizontal dimension includes the range of factors on which an industry currently competes and those factors in which it invests. The vertical dimension shows levels of performance against each factor, measured qualitatively. A strategy canvas is a conceptual tool remarkable in both its simplicity and its usefulness. It can be used to understand the current strategy of a company and its competitors, to communicate the strategy, and to imagine business directions. To do the latter, Professors Kim and Mauborgne recommend that a company create several alternative, radically different strategies, each aimed at delivering superior value to potential — not existing — customers by:
Reducing cost by eliminating some factors that the industry takes for granted and reducing other factors below the industry standard.

Enhancing differentiation by raising some factors well above the industry standard and creating additional factors that the industry has never offered.
We strongly recommend Blue Ocean Strategy — our choice as the year's best strategy book — to anyone responsible for strategy creation and execution. It is well written, offers a host of new examples, and is full of ideas; every chapter is worth reading.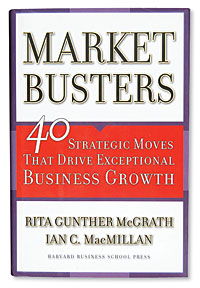 Strategy by Analogy
MarketBusters, by Rita Gunther McGrath and Ian MacMillan, takes a less analytical approach to the development of breakthroughs, using analogies with companies successful in other industries or geographies. Although using a tool based on analysis may seem superior to reliance on analogies, managers may find the analogies more helpful. Indeed, successful companies often develop value innovations through analogy. Think of Starbucks's Howard Schultz emulating the Italian coffee shop, or Sam Walton borrowing the Sam's Club concept from Price Club and the Supercenter concept from Carrefour's hypermarkets. Moreover, recent research in cognitive psychology suggests that analogies are the most efficacious way to create complex innovations (like business models).
The authors of MarketBusters have their own equivalent to Blue Ocean Strategy's "value innovation." They call it a "marketbusting move," defined as "an action taken by your firm to deliver markedly superior performance." Although the authors don't tell the reader how to make a market-busting move, they catalog 40 such moves, sorted into five categories. Companies can use these categories to stimulate their thinking:
Transform the customers' experience by eliminating or improving steps in the "consumption chain" — from the time a potential customer first becomes aware of a need, through purchase and use, to final disposal.

Transform your offerings, either by enhancing the attributes that customers most value or by reducing or eliminating attributes that customers don't like.

Redefine profit drivers, the metrics your company uses to measure performance at the business unit level.

Exploit industry shifts such as business cycles or restructuring of the value chain.

Enter new markets (new to you) to take advantage of emerging opportunities by monitoring "tectonic triggers," like new technologies that change what is technically feasible or affordable, changes in social norms or attitudes, institutional and regulatory changes, and demographic shifts.