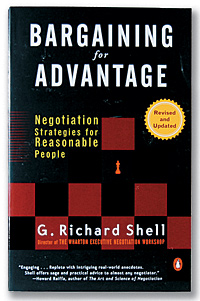 Art, science, and wisdom are covered in all three books, but each treats them differently. In Bargaining for Advantage: Negotiation Strategies for Reasonable People, G. Richard Shell translates his understanding of these elements into tactical advice. Professor Shell runs the Wharton Executive Negotiation Workshop, and his book is a comprehensive manual, including theory, examples, and practical tips. (This new version of a 1999 edition is so thoroughly revised that it is worth including among the best books of this year.)
Bargaining for Advantage points out that different individuals have different negotiating styles (and includes a self-assessment tool for helping readers determine their style). Different styles suit different situations: The collaborative, problem-solving negotiator is well suited to complex negotiations in which the ongoing relationship matters; the competitive negotiator to simpler, zero-sum negotiations. We cannot always choose the type of negotiation we enter into, but we can choose the negotiator who represents us, or the persona we take on when we negotiate for ourselves. Here is where artistry comes in: A skillful, self-aware assessment of oneself and one's representatives is the first step of a successful negotiation. The recognition that not everyone needs the same lessons marks Professor Shell as a sophisticated educator.
He also showcases wisdom, particularly in his tales of great negotiators. For example, in 1955 Akio Morita came to the United States to sell Sony's new transistor radios and establish the company's brand name in the U.S. market. There was very little interest until Bulova offered to buy 100,000 units, a deal that would have been hugely profitable for Sony. Unfortunately, Bulova insisted that the radios be marketed under the Bulova brand name. Mr. Morita agonized and cabled his board for instructions. They did not hesitate and told him to accept the deal. However, he did not follow their instructions, rejected the deal, and somewhat later secured a less lucrative distribution arrangement that allowed Sony to use its own brand name.
The negotiation had crystallized Mr. Morita's awareness of his true goal, given his company's purpose: to establish the Sony brand. This knowledge helped him take the risk of turning down Bulova. And that, in turn, was critical to Sony's ultimate success in global consumer electronics. One reason it's so important to understand the long-term purpose and intermediate goals of a negotiating position is that this information reduces risk aversion. Risk-averse people are more likely to take the other party's signals at face value and thereby become easy to manipulate.
Perhaps Professor Shell's most distinctive contribution is his discussion of science, particularly the way negotiators use norms to secure their objectives. This happens, for example, when one side encourages the other to make concessions to appear consistent with their professed ideals: "You speak eloquently in favor of transparent governance, which is fortunate because we need you to make your financial records available." Another interesting example is the use of what Professor Shell calls "positioning themes": the invocation of a norm or expectation that would be costly to break. In 1997, the International Brotherhood of Teamsters union defeated UPS's policy of restricting workers to part-time schedules. This victory came about at least partly because the union developed and exploited a positioning theme — "part-time America won't work" — which rallied the workers and which the company could not be seen to fight.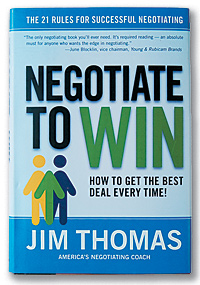 G. Richard Shell, as he acknowledges himself, is a "collaborative" negotiator, and at times he seems sanguine about the inevitable triumph of reason. Jim Thomas, author of Negotiate to Win: The 21 Rules for Successful Negotiating, has (as his book's title suggests) a more competitive style. Brash and direct, he opens the book by telling the reader, "It's not your imagination: Things really are getting tougher." In a world of shrinking margins, formerly fat and happy Westerners will have to learn to pursue ruthless, frugal, competitive deals in the global bazaar, whether they like it or not, just to remain alive. He dismisses negotiators who aim to discover the true needs and interests of the other party. As he imagines it: