Where to turn?
The unlikely answer proved to be the kind of Eastern disciplines that had gained a following during the 1960s and '70s in American counterculture. Two organizations that Strozzi helped launch, Tamalpais Aikido and the Lomi School, were among the most prominent centers of the time. Most human potential–oriented institutions considered themselves (and were considered) the antithesis of military culture, hippies and soldiers standing on opposite sides of an antagonistic gulf. But the changing nature of warfare, as well as the desire of counterculture gurus like George Leonard to reexamine the role of the warrior in human culture, had by 1985 begun to bring these worlds into halting contact. The Trojan Warrior Project was the first programmatic attempt at integration.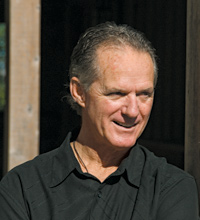 Action and Philosophy
When Strozzi received the call to go to Fort Devon, he saw the Trojan Warrior Project as an opportunity to extend the influence of disciplines he revered into a highly influential arena, and as a means of healing a sense of dividedness that had shadowed him throughout his life. The son of a career naval seaman, he had grown up on a series of military bases, studying judo in tin-roofed Quonset huts with enlisted instructors who emphasized the martial in martial arts. He went to Vietnam as a marine in the early 1960s, then bummed around Asia studying yoga and meditation, landing on the cover of Life magazine as an exemplar of the new global expatriate culture in 1968. After living in Hawaii and discovering aikido, he moved to San Francisco to apprentice in a catalog of alternative disciplines, including Reichian work, rolfing, Feldenkrais, polarity therapy, and a full slate of martial arts.
Having spent his younger years in open rebellion against the rigid discipline of his father, from whom he remained estranged, he saw working with Green Berets as a means of reconciling with the warrior culture he had been raised to honor but from which he had parted ways. "I understood that I needed to complete unfinished business from the past in order to be more fully alive in my present life," he says. He also saw the program as offering a chance to heal the split between the intellectual and physical worlds he had inhabited, a tension that had plagued him since he won an athletic scholarship and became the first in his family to go to college.
He says, "I'd been a jock since I was a little kid, and I loved the physical charge, the challenge, the practices, and the bonding. But in the locker room, there was always this prohibition against saying anything important unless it had to do with the game. That limited the camaraderie, made it dull and shallow." Majoring in English and philosophy at San Diego State University and later studying for his doctorate in psychology at the Saybrook Institute in San Francisco, he discovered that he thrived on intellectual discussion.
"It was incredible to sit around the coffee shop until all hours talking about big ideas," he recalls. "But though the talk was great, it never seemed to go anywhere. Plus, I noticed that the people who had the most interesting conversations often seemed disconnected from their bodies, almost as if they weren't physical beings at all. The two halves of my life, the physical and intellectual, were totally separate, which felt sterile. I wanted to combine them, find a way to cultivate philosophical depth while living in the world of action." His immersion in aikido, a highly physical discipline based on Taoist principles of nonresistance and effortless effort, was a way of resolving this split. The idea of bringing it to the Special Forces was irresistible.