Our finding of the limited correlation between shareholder performance and dismissals suggests that boards are giving underperforming CEOs more latitude than might be expected — possibly, we hypothesize, because boards lack a suitable pool of internal replacement candidates. We also found that CEOs recruited from outside the company continue to consistently underperform insiders and to make up a significant share of the departing CEO class. Moreover, we have found many North American companies continue to pursue CEO succession practices that seem questionable. In short, our research suggests that there is substantial scope for improvement in the way companies oversee chief executives, plan for successions, and de­velop pools of top leadership talent. Among the specific findings for 2007:
Overall turnover is down. At 13.8 percent in 2007, total chief executive turnover continues to fall from its high of 15.4 percent in 2005. The 2007 rate is the lowest since 2003. The slight downturn from the previous year's rate of 14.3 percent can be attributed to small decreases in the global rate of both merger-related and forced turnovers.


Forced succession rates have stabilized. In 2007, 4.2 percent of CEOs were dismissed. This is a much higher rate than the 1.1 to 2.0 percent prevalent in the 1990s, but only slightly above the average of 3.8 percent in the 2000s. We attribute this increase to the legislative and regulatory reaction to corporate scandals, the rise of the corporate governance movement, and the increasing activism of institutional shareholders.


Europe leads in turnover. At 17.6 percent in 2007, the overall succession rate for European CEOs was significantly higher than for their North American counterparts. This can be attributed largely to a planned succession rate of 8.3 percent.


Boardroom infighting remains high. Board disputes and power struggles have accounted for more than one-third of all CEO dismissals since 2004, up from less than a quarter prior to that.


Succession patterns vary by region. The U.S. continues to favor a governance model in which the CEO also serves as chairman of the board. New North American CEOs often begin as "apprentices," meaning that the outgoing CEO remains on the board as chairman. In Japan, outgoing CEOs always become chairman, but the role is mostly ceremonial. In Europe, few CEOs hold the chairman title, and the apprenticeship model is much less common.


A CEO who is also chairman is more secure than one who is not. Globally, of all CEOs departing in 2007 who never held the title of chairman, half were forced to leave, compared with 34 percent of those who held the title of chairman at the end of their tenure, and only 26 percent of those who held the title of chairman at the start of their tenure. In North America, the disparity was even greater.


The "two-year rule" is a fallacy. Contrary to the conventional wisdom, few CEOs face dismissal after two or three years of poor stock-price performance. Even CEOs whose companies' stock price has fallen 25 percent in absolute terms and 45 percent relative to regional industry peers after two years face only a 5.7 percent probability of dismissal in the next year.


Boards still opt for outsiders; outsiders continue to underperform. More than 20 percent of all CEOs are brought in from outside the company, despite the fact that in North America and Europe, outsiders, on average, underperform insiders. For all 10 years studied, companies headed by North American outsider CEOs underperformed regional market returns by 1.0 percent on average, and the gap for European outsiders was 2.2 percent.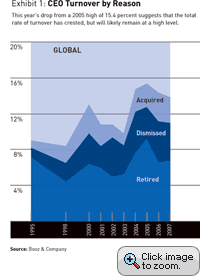 Many of the trends in CEO turnover have stabilized over the seven iterations of the Booz & Company study. The total turnover rate, which includes planned successions (due to retirement, illness, death, or long-expected changes), merger-related successions, and forced successions, reached a high point of 15.4 percent in 2005, and fell to 14.3 percent in 2006. (See Exhibit 1.) This year's drop to 13.8 percent is less sharp, confirming our prediction in 2005 that we had crested the wave but that an ongoing high rate of succession was likely to be the norm. The rate of planned successions was 6.8 percent in 2007, just over its average for the years we have studied. At 2.8 percent, merger-related successions were down slightly from a cyclical high in 2006 of 3.2 percent. (We use press reports, public filings, and the companies' public statements to classify each departure as planned, merger-related, or forced. For more information on the data, see "Methodology," below.)