The most dramatic conclusions of this year's study, however, are the clear and unmistakable trends of convergence and compression over the last decade — and the implications of these trends for newly elected CEOs, for executives who aspire to be CEOs in the future, and for other corporate leaders.
Convergence
The harmonization of CEO turnover rates suggests that global governance norms are emerging — not by fiat but through practice — across the world and in every industry. The percentages of CEOs who are replaced each year in Europe, as well as in the rest of Asia, have reached levels closer to those in North America and Japan. (See Exhibit 2.)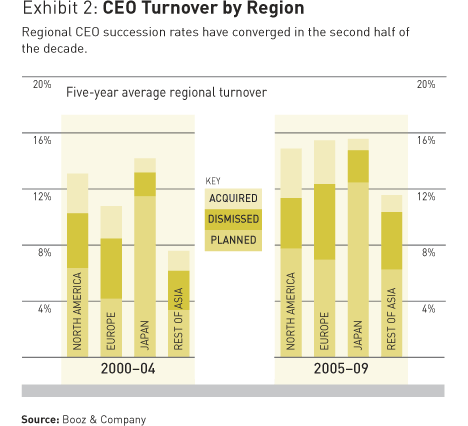 Similarly, CEO turnover rates have harmonized across industries. The 10-year averages all fall between 12 and 14 percent, with the exception of telecommunications (16.8 percent), which is a special case in several respects. (See "Telecommunications: The Exception to the Industry Rule.")
The emerging norms for new CEOs include several noteworthy characteristics:
• A separate and overseeing chairman. More American and European companies are splitting the CEO and chairman roles. At the outset of the decade, roughly half of the North American and European CEOs entering office were named chairman and CEO. In 2009's incoming class, that number had fallen to 16.5 percent in North America and 7.1 percent in Europe. (See Exhibit 3.)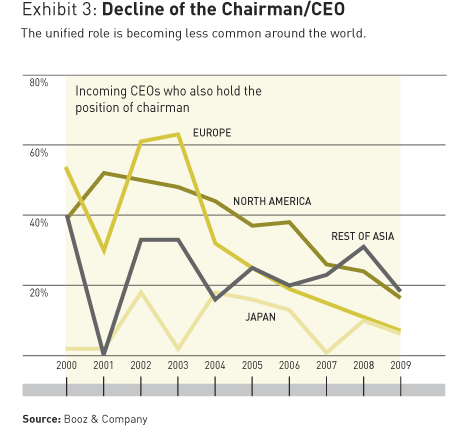 Having split the roles, companies in North America and Europe are increasingly appointing the outgoing CEO to the chairman post, with the incoming chief executive as the chairman's "apprentice."
Interestingly, the jury is still out on whether having a single-person chairman and CEO benefits or hurts company performance. (See Exhibit 4.) No one governance model consistently outperforms the other. But we know that the apprentice model — whereby the outgoing chief executive becomes chairman — does not produce consistently superior returns. In fact, apprenticed CEOs have underperformed non-apprenticed CEOs, on average.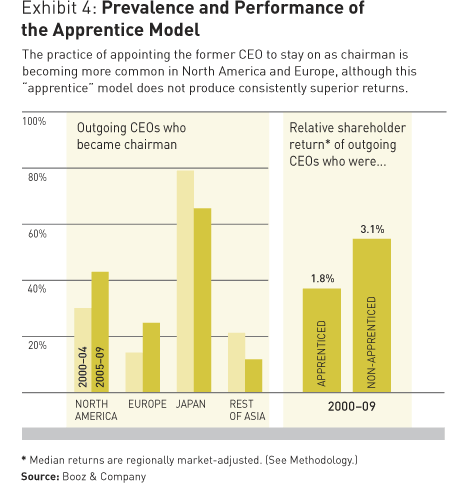 • A trend toward appointing insiders (for good reason). Four out of every five times, boards around the world choose insider candidates when selecting a CEO, and that ratio has been broadly consistent for 10 years — with relatively minor regional variations. On average over 10 years, the CEOs who departed from companies in Europe and the rest of Asia were insiders 73 percent and 72 percent of the time, respectively, compared with 80 percent in North America and 96 percent in Japan.
Insider candidates are naturally more knowledgeable about the company and the challenges and opportunities it confronts. They also tend to perform better and last longer, according to our research. Of the CEOs leaving office, insiders have produced superior regionally market-adjusted shareholder returns in seven of the last 10 years, averaging 2.5 percent; outsider-generated returns, in comparison, have averaged 1.8 percent. (See Exhibit 5.)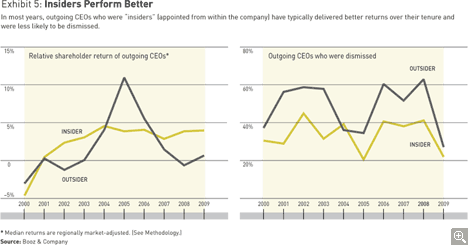 "There are many more advantages, I think, than disadvantages with everyone in the company knowing me and having access," says Gregory D. Wasson, president and CEO of Walgreens, the leading drugstore chain in the United States. "There's a trust factor that comes along with that." Wasson joined Walgreens as a pharmacy intern in 1980.
Luiz Carlos Trabuco Cappi, CEO of Banco Bradesco, one of the largest private banks in Brazil, observes, "It was a bit easier for me, because I've lived in the company culture for 41 years. The key challenge was making more of the same — but better."
To be sure, insiders lack the perspective that outsiders can bring. But the same relationships that enable trust, built over years, can also resist change.
"Coming in from outside has some benefits," notes Jan Lång, president and CEO of Ahlstrom, a Finnish manufacturer of high-performance specialty papers and fiber composites. "It is easier to ask the challenging questions and not conform to conventional wisdom."