Aligning with Corporate Strategy
Companies that focus on a consistent set of innovation capabilities clearly outperform their rivals. But as the issue of commercialization demonstrates, a consistent set of innovation capabilities can't by itself explain why they outperform. Innovation — and the particular strategies companies employ to pursue innovation — is just one aspect of every company's efforts to succeed in the marketplace. (See "The 10 Most Innovative Companies.") They must also excel in areas outside R&D, including manufacturing, logistics, sales, marketing, and human resources. And their innovation efforts must be in sync with their overall corporate strategy: They must integrate the right innovation capabilities with the right set of firm-wide capabilities, as determined by their overall strategy.
The 10 Most Innovative Companies
Every year, readers of the annual Global Innovation 1000 study — which tracks the companies that spend the most on innovation — ask us which companies are in fact the most innovative. So this year, we decided to query innovation executives for their perspective on this question. As part of our survey exploring the relationship between innovation capabilities, corporate strategy, and financial performance, we asked more than 450 innovation leaders in more than 400 companies and 10 industries to name the three companies they considered to be the most innovative in the world.
Our survey participants' collective opinion suggests that their views are very much in line with popular perception. Apple far and away leads the Top 10, capturing 79 percent of the vote; it is followed by Google, with 49 percent; 3M is in third place, with 20 percent. Apple is an exceptional example of our observation that success in innovation is determined not by how much money you spend, but rather by how you spend it. The company has a long history of bringing innovative and stylish products to market, from the first Apple personal computer in 1976 to the iPod, the iPhone, and the iPad today. Yet it invests just 3.1 percent of its revenues in R&D, less than half the average percentage of the computing and electronics industry. Apple's financial performance has been stellar: a five-year total shareholder return (TSR) of 63 percent. Second-place Google's five-year TSR is even more impressive, at 102 percent; its R&D intensity (innovation spending as a percentage of revenue), at 12 percent, is just 1.3 percentage points lower than the average of the software and Internet industry as a whole. Third-place 3M has been seen as a highly innovative company for many years, and its five-year TSR of almost 50 percent shows that it continues to spend its R&D money in the right places. (See Exhibit 11.)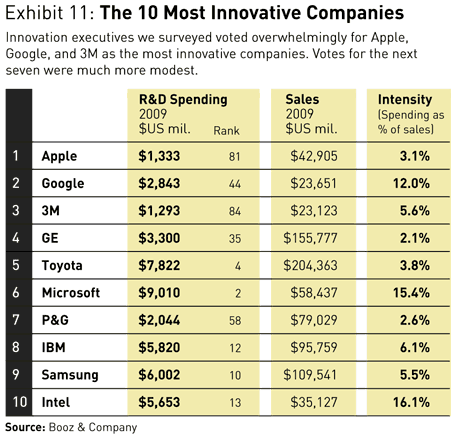 Only three of the companies on the "10 most innovative" list — Toyota, Microsoft, and Samsung — also appear among this year's top 10 spenders, reiterating the lack of correlation between R&D spending and innovation results. We also compared the overall financial results of the most innovative group with our listing of the top R&D spenders. The results are clear: The most innovative companies outperformed their industry peers on three different indicators of financial success. (See Exhibit 12.)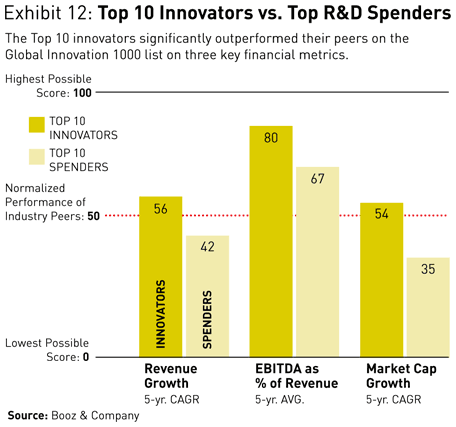 Companies that are perceived to be highly innovative are clearly successful in creating new products and bringing them to market. Some spend more than others to accomplish this goal, but the real winners, financially speaking, are those companies, like Apple, Google, and 3M, that can innovate successfully without breaking the bank.
— B.J. and K.D.
Why is strategic alignment so critical? As part of corporate strategy, every company needs to ask itself what business it is really in, and how it intends to win — and then ask the individual business units the same question. This must be both a bottom-up and a top-down process. On the one hand, the business units, which are so much closer to the customer, must first see an opportunity, and begin to innovate. On the other hand, corporate strategists must manage the companywide R&D and sales agenda necessary to compete successfully, even as they work to minimize spending and make the process as efficient as possible. As we demonstrated in 2007, companies that achieve a tight alignment of their firm-wide and innovation strategies on average generate 40 percent higher operating income growth and 100 percent greater total shareholder return.