North American Domination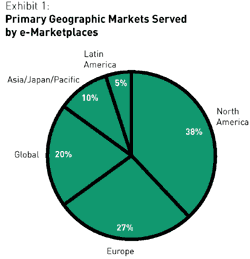 Our research underscores that e-Marketplaces are, to date, primarily a North American phenomenon. Thirty-eight percent — 684 of the global total — claim North America as their principal market served. Although Europe has a comparably sized economy, only 485
e-Marketplaces focus primarily on the European market. The rest of the world combined accounts for even fewer than Europe: A mere 173 such marketplaces are directed to the Asia/Japan/Pacific region, and only 88 serve the Latin American market. Finally, another 372 claim to serve the global market rather than any one region — but, in truth, most actually concentrate their resources on North America and Europe. (See Exhibit 1.)
With the Internet boom well past and most global consortia already formed, we expect few new e-Marketplaces other than private networks. North America will certainly maintain its lead over other regions. But the region will also lead in failures over the coming months and years.
Industry Mix
Our profiling efforts show that some industries have far too many e-Marketplaces. For example, 106 center on the transportation-and-logistics industry. With such a large number of exchanges in a relatively small industry, most of these competitors will disappear. In larger industries with relatively few exchanges, such as the automotive industry (17 e-Marketplaces), the competitive pressures will be less intense. Although effective execution of differentiating strategies ultimately drives success or failure, e-Marketplaces in industries with relatively few exchanges have the best chance for survival. (See Exhibit 2.)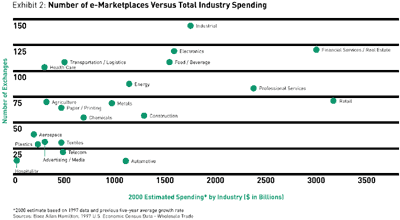 The highest failure rate, however, likely will be among the 170 generalist e-Marketplaces, which lack the base provided by a well-defined vertical market. These generalists focus on a specific, narrow functionality like auctions and forego a particular industry focus. Take, for example, Asset Assist Ltd., an Australia-based e-Marketplace created to buy, sell, and trade such assets as machinery, plant-and-equipment supplies, and furniture. When last we checked, it had no items listed in its 25 asset categories. With so many competitors in the field, the services offered by these exchanges are quickly becoming commodities, making it difficult for these less-focused companies to build defensible positions. An industry-focused player that tailors generic software to the nuances of a specific industry will have better odds of generating enough value to cover its cost.
Service-Offering Penetration Profiles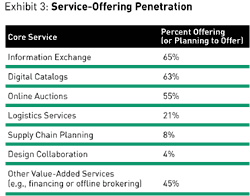 In examining the service offerings of the e-Marketplaces, we discovered six core services — information exchange, digital catalogs, online auctions, logistics services, supply chain planning, and design collaboration — plus numerous niche and specialty services. One might expect the penetration rate for a core service (that is, the percentage of exchanges offering it) to be high, as individual e-Marketplaces adopt a mix of services in order to attract the greatest membership. Yet penetration rates vary widely, from a high of 65 percent to a low of 4 percent. (See Exhibit 3.)
Nearly two-thirds of the e-Marketplaces offer information exchange services. Such a high penetration comes as no surprise: Information exchange costs relatively little and helps to build a sense of community among the membership.
Digital catalogs have the second-highest level of penetration (63 percent). Though far more costly than simple information exchange services, digital catalogs offer a much clearer value proposition to customers and suppliers. Suppliers can gain access to a broader customer base without the incremental production and distribution costs of paper catalogs. Suppliers and customers alike save in transaction costs. Two widely known e-commerce software providers, Ariba Inc. and Commerce One Inc., aggressively sell the benefits of digital catalogs; both hope to achieve the network effects of a dominant market share. In pursuit of high growth and the greatest number of installations, each has partnered often with both independents and consortia to create many of the e-Marketplaces.