The segment of the business consisting of large OEM customers demanded high levels of service and follow-up; in this segment, manufacturing could most profitably be consolidated into one national plant, which would emphasize just-in-time delivery and reliability. Significant scale economies could be realized simply by making more products in one place. Likewise, the segment consisting of complex manufacturing operations could also be combined into a single national plant, with an emphasis on flexibility and planning. Additional scale economies could be realized through this consolidation.
Finally, the remaining plants were standardized and rationalized into fewer high-volume regional plants serving the aftermarket. Because manufacturing processes for these customers are more routinized, these "run, run, run" plants could emphasize throughput and lean operations. (See Exhibit 3.) Realigning plant functions required a base-level optimization of the distribution network and required adding a new warehouse. In addition, new inventory levels had to be modified throughout the entire value chain. The result was a 28 percent reduction in conversion costs, growing market share, and a significant increase in profits.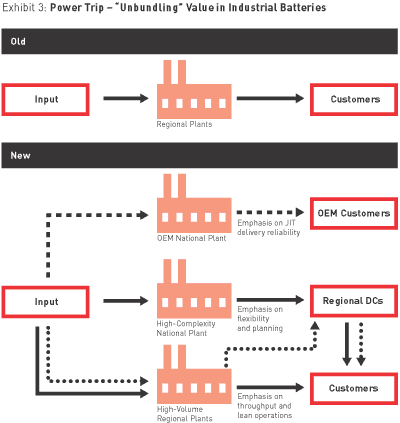 Step 3: Unleash Value by Reoptimizing the Value Chain
Now that we understand our product flows and our value-adding functions, and now that we have unbundled the steps to reexamine their cost drivers and capital intensity, we can unleash value and operational efficiencies. How?
An important part of unleashing value is to determine ownership. Options for vertical integration should be carefully developed. In the examination of these options, it is important to assess their financial and strategic implications. It may prove profitable to reposition the company in the value chain through outsourcing, divestiture, acquisitions, partnerships, or alliances. At a fundamental level, power and value are unleashed by reassembling the value chain in a different way, thereby taking full advantage of potential scale economies.
Some years ago, we worked with a major airline client, exploring ways to streamline the often cumbersome and costly process of maintaining its passenger jet fleet. For several years, many airlines had been evaluating whether to maintain their own engines or to outsource the task. At first glance, it might have appeared that engines are so critical to keeping a fleet in the air that an airline would need to control its own maintenance or risk losing control of a fundamental asset. It turned out, however, that engines could be inventoried like many other spare parts, and that externally maintained whole working units could be brought into service more easily than individual components. Consequently, airlines can shed significant assets associated with maintaining large numbers of engines for different types of aircraft, as well as the bookkeeping, cataloging, warehousing, and other administrative functions associated with maintenance.
The significance of this question — whether or not to outsource engine maintenance — may seem unrelated to scale, but in fact it is fundamentally interconnected, tied to the vertical, functional flows of the value chain. Until quite recently, many airlines believed they benefited from a large central "repair hangar," where they could achieve scale in storing spare parts, managing maintenance, and staffing mechanics. However, by unbundling the vertical functional value chain (labor and materials involved in maintenance) and the various product flows (engines, avionics, landing gears, etc.), the airlines saw that greater scale efficiencies could be realized by the engine manufacturers — and that outsourcing maintenance to the manufacturers was a way to unleash this value. The manufacturers could realize greater scale economies by providing full engine service and parts for airlines across the world by dedicating maintenance–flow lines to each engine type. And the airlines no longer had to labor under the incremental burdens of buying and warehousing large quantities of parts, and training and paying mechanics.